Lisburn Rangers net £15,000 for new pitch
LISBURN Rangers FC has scored with £15,000 in funding from the Alpha Programme.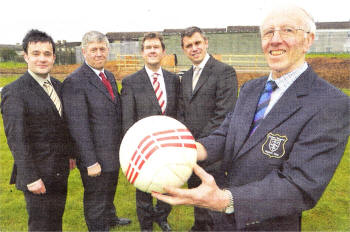 The money will be used to develop a fully enclosed pitch and changing facilities for the club at a site at Lagan Valley Leisureplex. After securing the future of their ground for the next ten years, work has got underway and it is expected that the new pitch and changing rooms will be completed in the coming months.
Announcing the funding, Lyle Andrew representing the Alpha Programme Steering Group said: With the future of the club now secure, it can continue to play an important role in encouraging children and the local community to enjoy the benefits of sport." The chairman of Lisburn Rangers, Stanley Coulter, said: "With the funding from the Alpha Programme, the club will now have its own pitch and changing facilities.
"It has taken a long time to arrive at this stage but finally the project is nearing completion.
"Without the funding from Alpha we would not have been able to compete in the league so it is great for both the club and the local community that these facilities will finally be in place." Lagan Valley MP Jeffrey Donaldson added: "It is fantastic to be able to see the future of Lisburn Rangers FC secured. "The club has a proud history and has been part of our local community for over fifty years and with the support of the Alpha Programme it will now continue to play a vital role in the community.
"The new facilities will enable local children to take part in sport which will help them keep an active, healthy and fit lifestyle whilst being able to socialise with their peers."
The Alpha Programme, managed by Groundwork NI invites groups to apply for grants that will be allocated to those organisations that can demonstrate that they have the ideas to transform their local surroundings for the better.
For information on the programme, to download the application form or to check the closing dates for submitting application visit www.groundworkni.org.uk.
julieann.spence@ulsterstar.co.uk
Ulster Star
24/04/2009