Lisburn shows its appreciation for the Armed Forces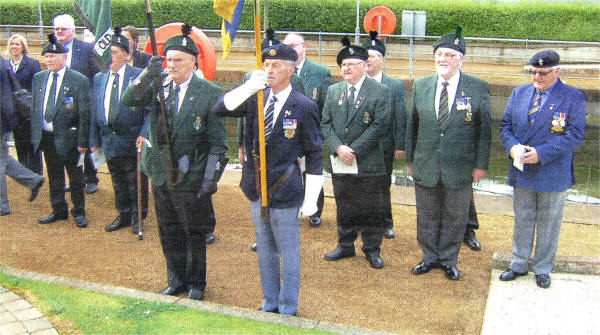 Members of the Royal Ulster Rifles Association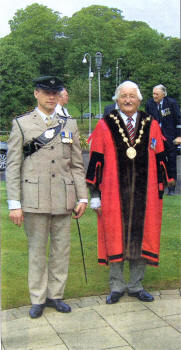 FORMER Lisburn Mayor, Councillor Ronnie Crawford, led the Council's appreciation for the Armed Forces at a special Flag Raising Ceremony at the Lagan Valley Island Civic Centre on Monday.
Mr Crawford, in one of his final Mayoral engagements, was joined by Lieutenant Colonel Turner from Thiepval Barracks, to officially begin the 2009 Armed Forces Day celebrations. This is the first occasion the British Armed Forces Day has taken place, and it is intended as a way for the nation to demonstrate its appreciation for the contribution made by all those who serve or have served in the Armed Forces.
Following an introduction by Mr Crawford, Lt Col Turner raised the Armed Forces Flag. The Royal Irish played the Last Post and a two-minute silence was observed.
Speaking afterwards Mr Crawford said he was 'honoured' to have been involved. "I was delighted to welcome Col. Turner and we convey our very best wishes through the raising of this flag to all Armed Forces personnel, both present and past, who defend democracy and freedom, with allies, across the globe.
"This act of Flying the Armed Forces Flag demonstrates our support to the Armed Forces and their families, who live with both pride and worry for their loved ones in these turbulent global times."
Ulster Unionist MLA Basil McCrea said the day gave 'the opportunity for the nation to get behind those men and women who make up the armed forces community.
"That includes not only serving troops but Service families, veterans and recruits'.
"It is incumbent upon us to recognise the bravery and dedication of our troops, particularly when the bond between the public and Armed Forces has suffered in recent years" he said. "It would be an indictment on us all if the work of members of the Armed Forces - and the sacrifices intrinsic to their job -were not appropriately acknowledged.
"I hope that the introduction of this event will provide a morale boost within the Armed Forces community."
stacey.heaney@ulsterstar.co.uk
Ulster Star
26/06/2009