Bravery award for Lisburn soldier in Afghanistan
by JULIE ANN SPENCE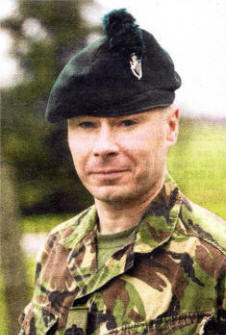 A SOLDIER from Lisburn has been awarded a Mention in Despatches, the oldest form of recognition of gallantry, for his remarkable courage during a fierce battle in southern Afghanistan.
Warrant Officer Second Class William Roy, aged 37, of 1st Battalion The Royal Irish Regiment, was part of a seven-man mentoring team for an Afghan National Army (ANA) security force at a patrol base in the Upper Gereshk Valley in Helmand province.
In July 2008, he was with an ANA company on the edge of the village of Shurakay when the patrol was suddenly ambushed by small arms fire and rocket-propelled grenades from at least four firing points.
WO2 Roy returned fire and assumed command, encouraging the ANA to fight the waves of attacking Taliban. Without endangering his own force, WO2 Roy called in accurate artillery fire to halt the attack. Then, as the patrol provided a security cordon for an ordnance disposal team to deal with an improvised explosive device, a determined small arms attack was launched from three sides and the enemy got to within 50m of his position.
During fierce and confused fighting, WO2 Roy led a charge to repel one attack and, after running out of ammunition, engaged the enemy with a discarded 66mm rocket.
As the ANA patrol withdrew, he recovered three members who had become temporarily cut off in a compound. He galvanised the ANA and directed their fire, and treated one casualty before extracting him from further danger.
The award citation said that WO2 Roy's actions throughout the day-long operation were "extreme and inspirational".
It continued: "But for Roy's bold intervention, the ANA company would have been overrun and in utter disarray.
"He had effectively commanded the company group in fierce battle for more than 12 hours. His leadership and initiative undoubtedly saved lives and were pivotal to the outcome. His courage and selflessness were remarkable."
The former Wallace High School pupil, whose parents William Roy and Julie Hare live in Lisburn, said: "I am deeply honoured to receive this award."
julieann.spence@ulsterstar.co.uk
Ulster Star
13/03/2009