Developer 'delighted' as first luxury hotel gets the go ahead
by JENNY MONROE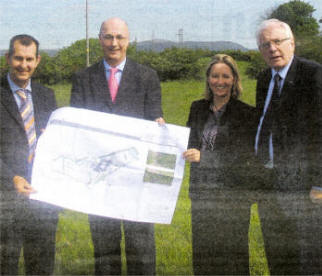 THE man behind plans for Lisburn's first five star hotel has said he is 'absolutely delighted' planners have given the go ahead for the Hilhall Road scheme.
Arthur Mooney of Mooney Property Ltd, said he was thrilled with the 'positive recommendation' made by the Planning Service which was endorsed by Lisburn City Council's Planning Committee on Monday evening.
"It demonstrates great confidence in, and enthusiasm for, the proposed Lagan Valley Hotel and Spa" Mr Mooney said. "I would like to thank the Council, statutory bodies and members of the public who have taken an interest in the project to date and have guided us towards this successful outcome. I now look forward to moving onto the actual development stage of the project aiming for a completion date in 2011."
Monday night's Planning meeting heard all issues had been agreed and planners were recommending approval. Chairman of the Economic Development Committee, Councillor Allan Ewart said the developer had been 'very patient and has made a lot of changes to suit the planners'.
"It will be a great boost for the area" he added.
Councillor Bill Gardiner Watson, the chairman of the Planning Committee, welcomed the decision and said he hoped the developers would get on site as quickly as possible.
Councillor Jonathan Craig concurred and said it would be boost for the construction industry.
Alderman Jeffrey. Donaldson said an objector had been in touch with him regarding minor issues with the hotel application. Mr Donaldson asked if a consultation could be arranged so the objector could discuss concerns with the developer. The Planning Officer said that he would certainly try to accommodate the request.
The plans for Lagan Valley Hotel and Spa were submitted by the Mooney Group at the end of 2007.
Mr Mooney said the hotel would be unique in Northern Ireland providing only suites, a Michelin starred restaurant, custom designed spa and well being facility, craft outlet and conference and banquet facilities.
Ulster Star
15/05/2009