International success for Local Ferrari technician
Clive takes third spot in grand final
by JULIE ANN SPENCE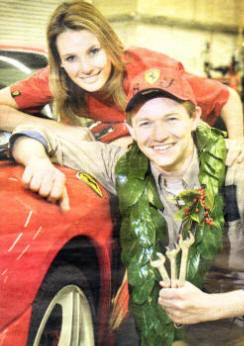 SENIOR Lisburn based Charles Hurst Ferrari Technician, Clive Patterson, has been ranked within the top three Ferrari technicians in the world, having been awarded third place at Ferrari's globally renowned 'Technician Challenge.'
Clive, based in Lisburn was the only successful technician from the UK to qualify for the competition's Grand Finale, recently held in Maranello, Italy.
During the week long trip, all finalists endured intensive practical and theoretical testing as well as indulging in a host of exciting activities including an exclusive visit to the Ferrari factory, museum and 'Fiorano', Ferrari's historic test track.
Commenting on Clive's phenomenal achievement, Richard Stinson, Franchise Director of Irelands only Ferrari dealer said: "At Charles Hurst Ferrari we are extremely proud of Clive's success in Italy, especially since the 'Ferrari Technician Challenge' is one of the most highly recognized and prestigious accolades in the industry.
His achievement is a credit to the hard work and effort he dedicates to the Franchise and Charles Hurst on a daily basis. I would like to take this opportunity to congratulate him on his outstanding performance."
Clive was presented with an impressive trophy and two thousand euro's worth of travel vouchers by Ferrar Chief Executive, Luca Cordero di Montezemolo in recognition of his 'Technician Challenge' success.
With an intense couple of weeks of training and studying behind him, Clive commented: "Being the only UK representative selected to compete in the 'Ferrari Technician Challenge' is a huge honour and an experience I will never forget.
The preparation period before the competition and my week in Maranello itself were extremely tough but I am delighted to be able to say that my hard work paid off. I am now looking forward planning a fantastic family holiday, courtesy of Ferrari."