Local mum inspired by Lagan Valley to become a midwife
"I hope when I finish my studies I will be as good as them"
by JULIE ANN SPENCE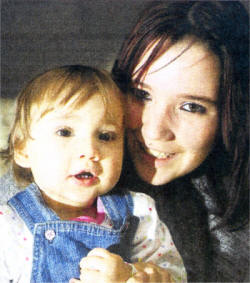 LISBURN teenager Kirsty Kirkwood (18) and her daughter Caitlyn (1) have a very special reason to support the maternity unit at the Lagan Valley Hospital and the campaign to make sure it stays open.
Because the fantastic treatment Kirsty received at the Lagan Valley Hospital when she gave birth to Caitlyn made such an impression on her she is now studying to be a midwife.
"I was 16 years old when I found out I was pregnant," explained Kirsty. "I was so sick I couldn't do my GCSE'S.
"I decided to go Lagan Valley to have my child as that was where both myself and the baby's father were born.
" When I was there they treated me like an adult, they never looked at me differently because of my age. I felt like they forgot my age and helped me through a lot."
However, the experience Kirsty had at the Lagan Valley was not the same as that she had when she tried out another hospital. "I thought I would try out another hospital at 22 weeks to see the difference," explained Kirsty.
"I waited over an hour to be seen for my appointment. When I was called my boyfriend (the baby's dad) was not allowed in, only my mum was which I felt was wrong as he should know everything as well, he was the one coming in with me to give birth so why wasn't he allowed in?
"They treated me really badly because I was young," she continued. "One midwife at the other hospital said to me 'I will not be giving you the epidural, you should have the pain as you did get pregnant at 16 which was stupid'.
"They made me cry so I decided to stick with the Lagan Valley. I went into labour 12 days early with problems. I was terrified but the midwives in Lagan Valley helped me through it and made me feel like I could do it.
"Unfortunately I haemorrhaged after giving birth to a beautiful girl, but thanks to team at Lagan Valley I survived."
Kirsty is certain the midwives at the Lagan Valley Hospital saved her life and she is determined the unit should remain open. In fact, her experience at the Lisburn hospital had such a profound impact on her, she has decided to study to become a midwife. "If the Lagan Valley maternity unit gets closed down it will be a huge lose as, in my opinion, they are better than other hospitals. The team was so amazing that I am now at college studying to become a midwife because they showed me how they can help someone. I hope when I finish my studies I will be as good as them," added Kirsty.
Lunn calls for halt to closure plans
LAGAN Valley Alliance MLA Trevor Lunn has said the closure of the local maternity unit must be stopped as it could be the first step towards the loss of other vital services at the hospital.
"The loss of maternity services at Lagan Valley Hospital would be shameful," said Mr Lunn. "If this service were to go, it could unfortunately be a sign of things to come.
"There must be no running-down of Lagan Valley Hospital. Longer journeys for pregnant mothers will put both mother and baby at far greater risk.
"In a number of government departments you often see services being cut simply to save cash, with little regard paid to the impact on the local population. This is totally unacceptable."
julieann.spence@ulsterstar.co.uk
Ulster Star
20/02/2009