Facelift for Lowquarter Orange Hall thanks to Lottery windfall
by STACEY HEANEY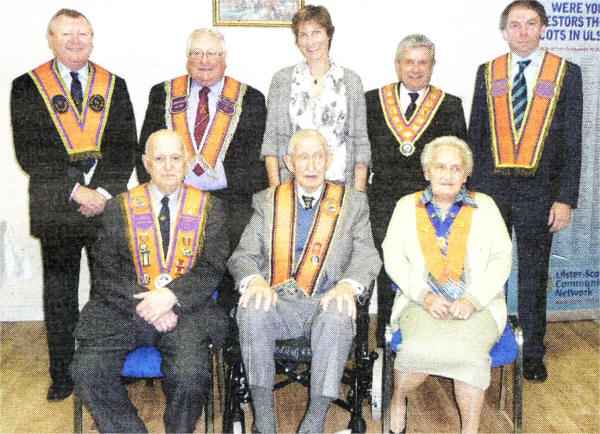 Back row L-R Platform party, Drew Nelson Chairman of OCN, Irwin laggart WM LOL 187, Julie Harrison NI Committee Member of the Big Lottery Fund, Robert Saluters Grand Master of GOLI, Vaughn Hendron Chairman BCES. Front Row L-R Harrison Watson, Jack McComb, Isa Leathem who were in attendance when the Low Quarter Orange Hall was opened in 1938.
LOWQUARTER Orange Hall at Ballinderry has received a facelift thanks to a cash boost from the Big Lottery Fund.
The refurbished hall, funded with the help of a grant of £50,000 from the Big Lottery Fund's Improving Community Buildings programme, was relaunched by Brookmount Cultural and Education Society.
The renovations have made access easier, especially for older and disabled people, increased the number of young people coming along, and improved the activities available.
The Lottery cash has been used to carry out a major extension to the rear of the hall incorporating a new kitchen, seminar room, a secure store room and a rear entrance porch.
Elma Spruce, a member of both Magheragall Pipe Band and Brookmount Dance Ranch Line Dance Class, said: "Before the facilities in the hall were limited and it could get quite cold and damp. The refurbishment and extension to the hall has given us a warm, comfortable place to hold classes and learn new skills and dances."
Vaughn Hendron, Chairman of Brookmount Cultural and Education Society, said: "We are justifiably proud of the refurbished and extended hall and the real and lasting difference it is bringing to the local community.
"The number of people of all ages attending classes and activities at the hall has increased significantly. I would like to express my thanks to all the committee members who put a lot of time into our projects and the Big Lottery Fund for helping us reach our goals."
Councillor William Leathem added: "I have lived in Magheragall all my life and for years we have not had the facilities for community use, however, we have now a venue which is used 6-7 times a week by the local community and I was delighted to see the hall full to capacity for the formal proceedings and for the excellent Ulster Scots Concert and soiree."
Breidge Gadd, Big Lottery Fund NI Chair, said: "This will allow the group to hold a range of services that will bring people together and encourage them to get more involved in their local community."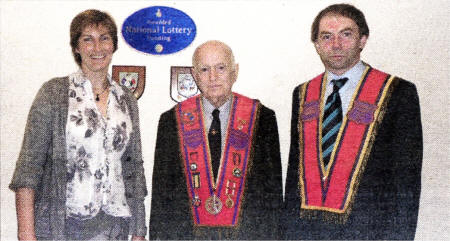 Julie Harrison NI Committee Member of the Big Lottery tuna, Harrison Watson who chaired the proceedings and Vaughn Hendron who officially opened the extension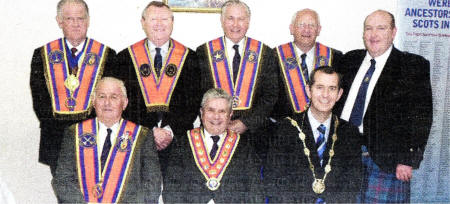 Grand Lodge Officers and County Antrim Grand Lodge officers including CM. William Leathem and Alderman Edwin Poots Deputy Mayor.
stacey.heaney@ulsterstar.co.uk
Ulster Star
15/05/2009