Planners give go ahead for luxury hotel in Lisburn

PLANNERS have given the go ahead for a new luxury five star hotel on the Hillhall Road in Lisburn.
The application will now come before Lisburn City Council's Planning Committee later this month before it can get the final green light.
The plans for the luxury Lagan Valley Hotel and Spa were submitted by the Mooney Hotel Group at the end of 2007 and, if the council give the go ahead at their planning meeting, work could begin in the very near future, despite local opposition to the scheme and road concerns. When the plans were first revealed by Arthur Mooney, who also runs the Dunadry, Armagh City and Wellington Park Hotels, he said he was confident the finished product would be delivered and that confidence now seems to be paying off. Speaking when the plans were first submitted, Mr Mooney said the 70 bedroom hotel will be unique in Northern Ireland, providing only suites, a Michelin starred restaurant, custom designed spa and well being facility, craft outlet and conference and banquet facilities.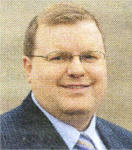 He said the hotel will be strategically placed on the Hillhall Road -nearly opposite the Braniel Hall - to take advantage of its rural setting close to Lagan Valley Regional Park.
"The hotel will enhance the profile of that area and the most important thing is that it will complement the surrounding rural environment," explained Mr Mooney.
"The hotel will cater for an international market but it will also cater for the local market, with the spa, wedding and conference facilities."
Councillor Jonathan Craig welcomed the granting of planning approval.
"I welcome the fact that not only have we one hotel more or less built on the Hillsborough Road, we now have approval for a second luxury hotel which will deal with a different sector of the market," he said.
"It will be a huge benefit for the economy in Lisburn to have this project moving ahead in the near future.
"Not only will it create welcome jobs in the construction industry, it will also lead to permanent jobs on the site and will bring further business into the Lagan Valley area, which is definitely welcome during this time of economic downturn."
Chairman of the Council's Economic Development Committee, Councillor Allan Ewart, added: "It's great to have such good news for the local economy, and with its strategic location in the city and 5 star luxury hotel rating, I have no doubt that it will be a massive success for the developer."
julieann.spence@ulsterstar.co.uk
Ulster Star
02/05/2009