For better for worse....Dromara couple set off to conquer Everest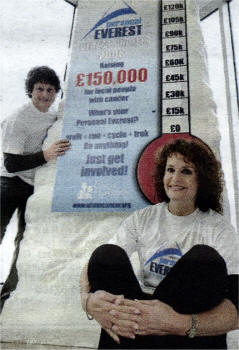 THE Ulster Cancer Foundation (UCF) is waving off long-term supporters Lynne and Noel Hanna as they set off on a record breaking attempt to be the first married couple to reach the summit of Mount Everest in May. This hazardous six week expedition is the culmination of 18 months of training and fundraising for UCF. Not only is this a great personal and physical challenge, thrill seekers Lynne and Noel are using the perilous climb to motivate others to get active and raise £150,000 for UCF's Personal Everest project.
Attempt
This expedition is Noel and Lynne's second attempt at reaching the top of the world as a husband and wife team. In 2005, the couple made an attempt but Lynne abandoned her summit chance when Noel was diagnosed with retinal haemorrhaging causing blindness which lasted for six weeks. Noel did however return to Everest and reached the the top a year later.
Regrettably their joint expedition plans were set back again last year just as they were preparing to leave, when Everest was closed to foreign climbers.
This time however Lynne and Noel's rucksacks are packed and they left Northern Ireland on March 31 for the record breaking charity attempt.
Joyce Savage, Head of Appeals and Marketing at UCF said: "Lynne and Noel's enthusiasm and commitment to improving the lives of local people who have been affected by cancer is inspirational and we wish them every success on the expedition. "There are lots of ways you can raise funds for UCF's Personal Everest Project. From making a simple donation on a regular basis to using the challenge as an excuse to do something you've always been planning to do but never quite started. It could be getting your friends to sponsor you to get fit, lose weight or give up smoking. Or you could register for a range of UCF sporting challenges which cater for all levels of adventure at home or abroad - such as Ben Nevis, New York Marathon or the Great North Run."
For further information on the Personal Everest Project log onto www.ulstercancer.org, email personaleverest@ulstercancer.org or contact Sarah/Leonne at UCF on 9066 3281.
julieann.spence@ulsterstar.co.uk
Ulster Star
03/04/2009