Dromara couple back home after Everest climb
Lynne and Noel are first couple from Ireland to reach the summit
by JULIE ANN SPENCE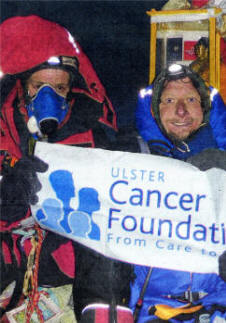 THE souring temperatures in Northern Ireland this week are a world away from the sub-zero conditions experienced by local couple Lynne and Noel Hanna when the reached the summit of Mount Everest last month.
Lynne and Noel were literally on top of the world when they reached the summit on May 21, making history as the first couple from Ireland to climb the highest mountain in the world - and now they are starting to come back down to earth at home in Dromara.
Although Noel reached the same summit last year, Lynne had to abandon her attempt two years ago when Noel suffered problems with his eyes during the climb. "We always
knew we would go back together," said Noel. "Lynne was with me in 2005 but didn't attempt the summit as she had to come off the mountain with me.
"It was nice the two of us got climbing together although for me it put on more pressure because I was worrying about her, not just about myself."
The couple reached the summit at the same time as renowned adventurer and personal friend to the Hanna's, Sir Ranulph Fiennes, who took a photograph of Noel at the summit.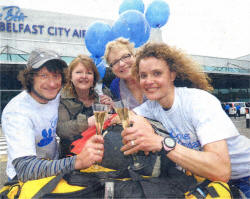 Noel and Lynne arrived back in Belfast last Friday and have had little time to recover, with Lynne starting back to work on Monday and Noel already planning his next adventure to the Antarctic at the end of the year. Although Noel did confess they had enjoyed a "good steak" at Maghera Inn to celebrate. As well as conquering Everest Lynne and Noel are also encouraging other people to take on their own 'personal Everest' challenge and help to raise £150,000 for the Ulster Cancer Foundation. "Lynne has be working with the charity in recent years through her role in Clarins," explained Noel. "We decided that because of this connection we would use the Everest climb to encourage people to raise money for the charity." If you would like to find out more about the personal Everest challenge, log onto www.ulstercancer.org/events/everest.
julieann.spence@ulsterstar.co.uk
Ulster Star
05/06/2009