Maghaberry community hall is officially opened
by JULIE ANN SPENCE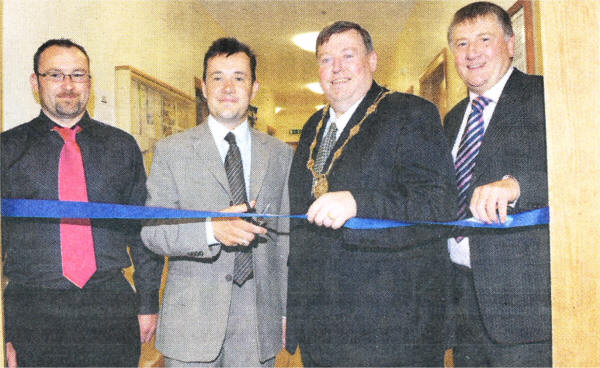 Th
e Deputy Mayor of Lisburn, Alderman Paul Porter and Councilor David Archer, Chairman of the Leisure Se
rv
ices Committee, Lisburn City Council, officially open Maghaberry Community Hall. Cutting the ribbon with Mr. Archer are (I-r): Mr. Sam Reddick, Chairperson of Maghaberry Community Association; Deputy Mayor of Lisburn, Mr. Porter and Mr. Kenneth Rankin, Board member of the Northern Ireland Rural Development Council
THE local community in Maghaberry is celebrating the official opening of the Maghaberry Community Hall, a new facility for use by all local residents and groups. This state-of-the-art community hall is on land made available by housing developers Lewis and Coulter, with the funding being provided by Lisburn City Council, Rural Development Council NI and Maghaberry Community Association.
The total cost of the project was £550,000, of which the major funder Lisburn City Council contributed £380,000; the EU Programme for Peace and Reconciliation managed by the Northern Ireland Rural Development Council provided £150,000 and the Maghaberry Community Association raised the remaining balance of £20,000.
Councillor David Archer, Chairman of the Council's Leisure Services Committee said: "I am delighted to see this 'Satellite Community Centre' operational and would like to thank all those involved in bringing this project to fruition. The Council are very appreciative to those organisations that have helped make it happen and as a Council we would like to see an increase in the number of such community-based halls in the Lisburn area over the next few years."
Deputy Mayor, Alderman Paul Porter added: "It is a great honour to have been able to officially open this venue together with the Council's partners in the project. I wish the Maghaberry Community well with their new community hall and the associated activities held within it." Chairperson of the Maghaberry Community Association, Mr Sam Reddick concluded: "I am delighted that the funding organisations have officially opened our Community Hall which addresses a great need within the community to provide a safe haven for our residents to socialise.
"I would like to thank Lisburn City Council and the Northern Ireland Rural Development Council for their time and financial assistance in coordinating this project, which would not have been possible if Lewis and Coulter had not kindly donated the land. I would also like to thank my fellow members of the Maghaberry Community who continue to use the facility on a regular basis."
julieann.spence@ulsterstar.co.uk
Ulster Star
17/07/2009