Moment fun weekend in Malaga turned into a nightmare
by GARY ELLIS

Michael watches as team mate is arrested by Spanish police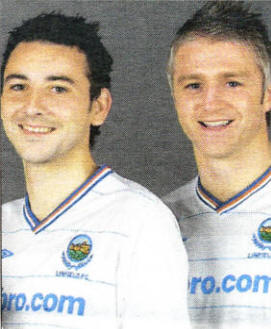 A TOP Irish League footballer has spoken of the moment a stag weekend in Malaga turned into a nightmare when friend and Linfield team mate William Murphy was arrested and taken to Spanish prison.
Lisburn man Michael Gault arrived home on Tuesday night still trying to come to terms with what had unfolded in the sunshine resort in the early hours of Saturday morning when police arrived at their hotel to detain 35-year-old Linfield captain Murphy over an incident in Spain in 2007 involving counterfeit money. "It's still hard to believe," said Michael who was one of a number of people who had travelled out to the stag weekend for another Linfield player, Jim Ervin. "We had been planning the trip for some time and everything was going well. We passed through the airport security and checked into the hotel without any problems.
We had a great day in Malaga on Friday. It was early on Saturday morning when the police arrived and took William away. We were all in shock at what was unfolding," added Michael.
The last time Michael saw William was in the courthouse on Saturday evening.
"We got to see him for a short time. He was gutted, totally distraught. The rest of us are back home now and all we can think about is William. Our heart goes out to his wife and three children, it must be a terrible time for them. We just hope and pray the matter is resolved quickly and we get the big man hope as soon as possible."
Linfield say they believe William is being held over an incident in Spain in 2007 when he was arrested after allegedly having counterfeit money. He was granted bail and was able to come home but was apparently did not return to Spain to face a subsequent charge.
It is believed William has now been moved to Madrid to await a court hearing. His father has flown to Spain to offer support.
Ulster Star
/2009