Family unite to run in Margaret's memory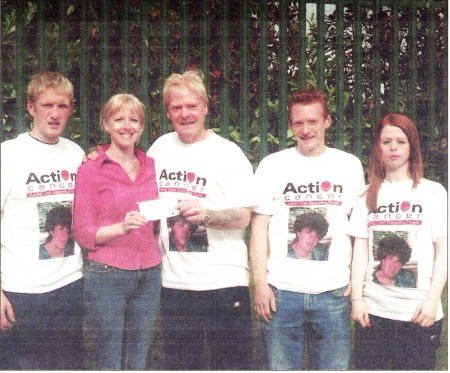 Aubrey Penney with sons Dwayne and Warren and daughter Alana present a cheque for £500 to Nicki Ingram of Upfront Breast Cancer Support Unit based at Lagan Valley Hospital which was raised by running the 10k race and fun run in Lisburn recently in memory of his late wife Margaret.
THE FAMILY of a woman who died from cancer in March have raised £500 for the Upfront Breast Cancer Support Unit by completing the recent Lisburn 10k and fun run.
Aubrey Penney from Legacurry Road and his children Dwayne and Warren completed the Lisburn 10k run while daughter Alana did the fun run on behalf of their mother Margaret who died of cancer three months ago.
Margaret, who had fought bravely against the illness for ten years, passed away on March 21 in the cancer unit at Belfast City Hospital.
She was first diagnosed with breast cancer and underwent a mastectomy at the City. However, the cancer later spread to her liver and bones and she had bouts of intensive and aggressive radiotherapy and chemotherapy.
Memory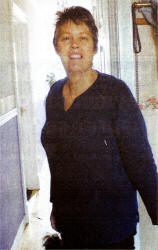 Her family were so impressed by the way Margaret had fought the cancer they made a joint decision to do something in her memory.
"We decided to donate the money to the Upfront Breast Cancer Support Unit because she attended the group and they were all so good to her," said Aubrey.
And despite suffering herself Margaret always gave other cancer patients a lot of support. She really and truly was an inspiration.
"Even when she was going through real intensive and aggressive treatment she was always bubbly and had a smile on her face," he said. "She took everything in her stride, the treatment, everything. Her strength impressed everyone. We all just don't know where she got it from. She was such a wonderful woman." Margaret spent the last six months of her life in poor health and just two weeks before she died was taken to the cancer unit at Belfast City Hospital.
Her death has devastated all of us and everyone who knows her," said Aubrey. "While she was still conscious she arranged her own funeral, that's the sort of person she was."
Three weeks before the Lisburn Marathon the family made a joint decision to take part. Aubrey, who had little time to prepare, completed the 10k run in a very respectable 55 minutes. "My sons play football so running was going to be easy for them and they were teasing me saying that I would not make it, but I did and they only finished five minutes before me," he laughed. "I don't run but I do a bit on a treadmill.
"My daughter went round getting sponsorship from the community at Ravarnette who were very supportive."
Ulster Star
03/07/2009