Dromara family make their Mark for Children's Hospice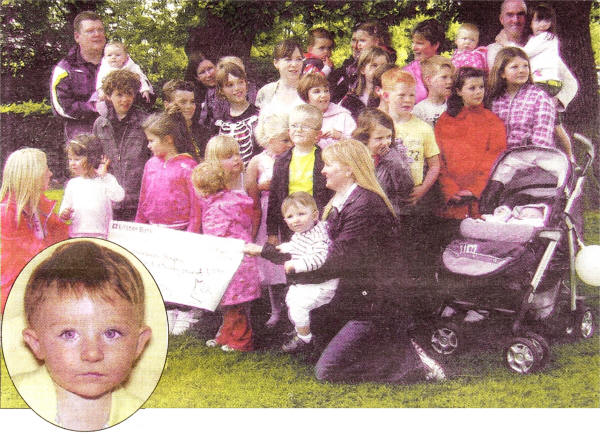 The group that took part in the two mile walk for Children's Hospice and left, Mark Stanford.
A DROMARA mum has generously donated £1000 from her only son's first birthday to the Children's Hospice.
Yvonne Stanford held a birthday party for Mark at Delamont Park, Downpatrick on June 7 which was attended 95 family and friends.
But instead of bringing presents, the family asked everyone to donate money and, added to the money they raised in a recent sponsored walk, have raised a total of £1090.50.
"Mark is a fit and healthy young boy and is very special to me," Yvonne said. "I know that family and friends would give Mark many birthday presents and I just thought some children get so much while other children are not as fortunate.
"We as a family just wanted to try and help some of those children and I could think of no better cause for the donation to be given to.
"To date we have raised over £1000 for the Children's Hospice and I would like to take this opportunity to thank everyone for their overwhelming generosity, we are truly grateful to all who have made this donation possible," she continued.
Each year the Children's Hospice cares for over 250 children and provides support to their families.
Regional Fundraiser for the charity, Claire Brown said, "I am thrilled by this outstanding donation from the Stanford family.
This financial contribution from this very special family will allow life-limited children and their families to receive essential care that they so desperately need and deserve, not only at Hospice but also in their own homes."
For more information on Northern Ireland Children's Hospice, ring 90 781836.
Ulster Star
17/07/2009