`OUR UNFILLABLE VOID'
FAMILY'S MOVING TRIBUTE TO AN `AMAZING MAN'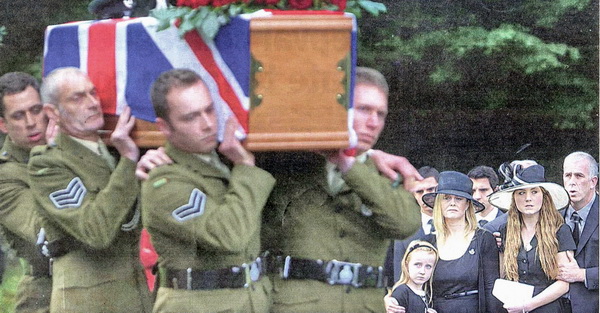 A final farewell. Captain Mark Hale's family look on as his army colleagues carry his coffin to the funeral service at Hillsborough Parish Church. Pic by Aidan O'Rreilly
THE family of the Dromara soldier killed as he tried to rescue a colleague caught in a bomb blast in Afghanistan have spoken of the 'unfillable void' left by his death.
In a statement read by a friend after the funeral service for Captain Mark Hale at Hillsborough Parish Church on Wednesday morning, his wife Brenda said they were still 'still reeling with shock' and 'disbelief' at the loss of an 'amazing man'.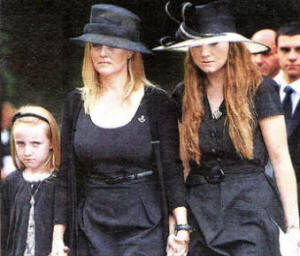 42-year-old Captain Hale and Rifleman Daniel Wild, 19, both serving with the 2nd Battalion the Rifles, had rushed to carry Lance Bombardier Matthew Hatton, 23, to safety after he had been injured in a roadside bomb when they were caught in a second blast. All three died.
Following Wednesday's funeral a statement on behalf of Brenda was read by colleague and friend Major Alastair Field of 2 Rifles.
Mrs Hale said she and their daughters Tori and Alex were 'still reeling with shock' and 'disbelief' at the loss of an 'amazing man'.
She said: "Mark lived life to the full and never wasted a minute; even in his quiet and reflective moments he was writing poetry or reading philosophy.
"He was a born soldier who gave the army 110 per cent at all times. He loved his job and the men he served with, and was really enjoying the extraordinarily difficult challenges that arose
daily in Afghanistan. "To us, his family, he was our all in all. We have been truly blessed by God in our family life. Mark was an exceptional father and an exceptional Christian."
Mrs Hale continued: "Nothing was ever too much or too good for his beloved daughters; they were the centre of his life and now and infillable void has been left. I have lost my soul-mate and my best friend; words cannot begin to describe the utter desolation and loneliness that I feel.
"We have drawn much comfort as our friends and the military family Mark's regiment, 2 Rifles and both the Devon and Dorset and Semper Fidelis Associations have gathered around us. Their love for Mark has been reflected in their protectiveness towards us and I thank them all deeply." The statement continued: "Our thoughts are also with the families of Matthew Hatton and Daniel Wild who died with Mark on the August 13 in Sangin. As I think of Mark with each breath, I also think of them; we hold them close in our prayers."
Following the funeral soldiers of 40 Regt Royal Artillery from Thiepval Barracks — held a minute's silence to remember their colleague Bombadier Hatton who was buried near York. The funeral of Rifleman Wild took place in Sunderland on Tuesday.
Captain Hale, who had studied at the Open University and took a Masters in Psychology, joined the Army in 1983 at the age of 16 as a Junior Leader and embarked on what has been described as `an exceptional career' with the Devonshire and Dorset Regiment that took him on operations to Northern Ireland, Bosnia, Iraq and then, with The Rifles, to Afghanistan.
Captain Hale was buried in a private family ceremony after the funeral.
Thiepval colleagues pay tribute to fallen comrade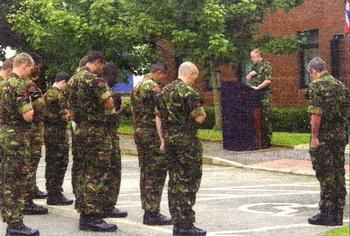 COLLEAGUES of the late Lance Bombadier Matthew Hatton, who was killed in Afghanistan last month with Captain Hale, gathered to remember him at Thiepval Barracks at the exact time of his funeral in York Minster Cathedral, North Yorkshire.
LBdr Hatton was based based in Lisburn and deployed with 19 Light Brigade in March.
Sergeant Will Bennett read the eulogy.
Lance Bombardier Hatton was from Haxby in North Yorkshire.
He joined 40th Regiment Royal Artillery (The Lowland Gunners) on 21 January 2004 after completion of his basic training.
He immediately established himself as a highly popular character within a very close-knit Tactical Group. Having previously completed operational tours in Iraq and Cyprus, he completed pre-deployment training for Afghanistan and subsequently deployed with the 2 Rifles Battle Group in March 2009 as an Observation Post Assistant, initially to the Kajaki area and subsequently south, to Sangin. An army statement said: "The role of an Observation Post Assistant is a demanding one and requires a special breed of soldier. The job requires initiative, foresight, composure under extreme pressure, clarity of thought, physical and mental robustness, and tactical awareness.
"Lance Bombardier Hatton epitomised these qualities and possessed an enthusiasm for his work which was clear for all to see. He was often to be found in his room at night reading his operational procedures cribs in order to better understand the technical aspects of his profession, much to the amusement of his friends in the battery, or in the gym working hard on his fitness in order to ensure that he would be ready in all respects when the time came."
Bravery and sacrifice `beyond comprehension'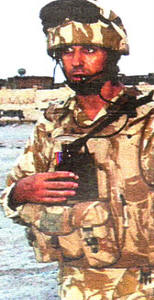 LOCAL MLA Basil McCrea paid tribute to Captain Hale after attending his funeral on Wednesday morning.
Mr McCrea and Alderman Ivan Davis attended the service in Hillsborough.
Mr McCrea described the service as one of the most moving' he had attended and urged everyone to think of those families left behind.
He said: "It brought the depth of loss home to every member of the congregation, and any expression of condolence seems wholly inadequate.
As the death toll in Afghanistan rises - with more troops wounded in action in July 2009 than in the whole of 2006 - we must spare a thought for those families devastated by the conflict."
Mr McCrea paid tribute to the bravery of the local soldier who died while trying to save his colleague. He said: "Captain Hale - alongside teenage Rifleman Daniel Wild - sacrificed his life while trying to save the life of Lance Bombardier Matthew Hatton who had been injured in a roadside bomb.
"The bravery shown and sacrifice made by those who gave their lives in service, and by the love ones they left behind, is beyond comprehension."
Ulster Star
04/09/2009