Lisburn man begins 1000 kilometre trek to South Pole
to mark 10 years without sight
by NEIL GREENLEES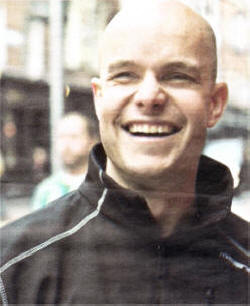 A LISBURN man who overcame the trauma of going blind overnight to become a champion rower as well as an inspirational author and public speaker has begun a gruelling 1000 kilometre trek through the icy wastes of Antarctica.
Mark Pollock (32), who spent his early years in the Antrim Road area of the city before moving to North Down and eventually to Dublin, is being guided through the 40 day 'South Pole Race by his two sighted team mates - Simon O'Donnell and Inge Solhelm.
Mark hopes he and his friends (Team Southpoleflag) will reach the finish line ahead of the five other groups taking part in the first international race to the Pole since Captain Scott competed against Norwegian explorer Roald Amundsen almost a century ago.
The competition is certainly tough. One of the other teams (Team Quinteq UK) includes double Olympic gold medallist athlete James Cracknell and the adventurous BBC television presenter Ben Fogle.
However, Mark is certainly no also ran' in the race, the start of which was delayed for several days because of poor weather.
He has been in the Gobi March (six marathons in six days), competed against Sir Ranulph Fiennes and Sean Birch in the extreme marathon at the North Pole, kayaked across the Irish Sea and raced an IronMan Triathlon.
Most recently he completed The Dead Sea Ultra Marathon (the world's lowest marathon) and the Everest Marathon (the world's highest).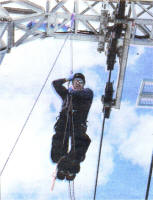 Before setting out for Antarctica he explained why he felt it necessary to take part in the race across Antarctica.
"I have to mark the 10th anniversary of my going blind - because an anniversary like that can mark you if you don't get in there first," he explained.
"The South Pole Race is the first event in a long time that I have been really scared of and that feels good. I'm afraid I won't finish; afraid I will lose one of my vital remaining four senses to frostbite and afraid I will slow the team down.
"Because it is going to be outside my comfort zone; because I have to compete with myself and because I'm back in a team I feel I am finally arriving where I left off before going blind. In the race I don't have to run away from my own story - it fits and it feels right."
Mark said prior to losing his sight his identity was 'mapped out and easily pinned down. He described himself as "a born athlete, happiest in a team, whether it was the rowing team or my friends - all together, all aiming for some common purpose.
"This carried me through to university at Trinity College where in 1998 I was graduating from a business degree. I was Captain of the rowing club, had a selection to row for my country at the World Championships under my belt and a job in London.
"Then overnight, I stopped being able to see. At 22 a detached retina left me completely blind and with my sight went my independence and identity. The shock was so great that I denied it was real.
"I truly expected every morning to wake up and for it all to have been some sort of horrible mistake. I was lying in bed, listening to too much talk radio and praying for the impossible. I didn't know how to be; I didn't know who I was; I had no identity other than: 'Mark - can't tell what clothes I'm wearing, can't get a job, can't have a relationship, can't row.
However, several weeks after suffering the detached retina Mark received two major lifelines.
The first was a talking computer: "This gave me the ability to not only work but to be independent, to have purpose and challenge," he added.
The second lifeline arrived on four legs and guide dog Larry was to be Marks constant companion for a decade.
However, he recently 'retired' and Mark acknowledged in his advanced years his faithful friend would 'never have been up to making the trek' across Antarctica.
Mark said: "At times, being blind is incredibly annoying and frustrating. If a bus is starting to pull out of a bus station, when I could see I would run for that bus. Now that I'm blind I just have to let it leave."
Mark also said he viewed himself "as an educator rather than a victim.
"It's up to people like me in the blind community to educate others that the visually-impaired can do so many things," he concluded.