10 years after losing his sight, Mark makes it to the South Pole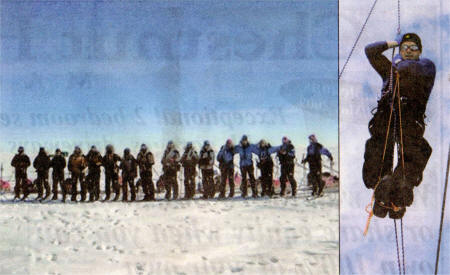 Competitors in the South Pole race before the event began. Insert: Mark in training for his trek across Antarctica
A LISBURN man who decided to mark the 10th anniversary of the sudden loss of his sight by taking part in an epic race to the South Pole has been reflecting on his 22 day 770 kilometre trek across the Antarctic Plateau.
Mark Pollock, who spent his early years in the Antrim Road area of the city, endured sub-zero temperatures, poor visibility and sleep deprivation before crossing the finishing line last Monday.
He said he felt 'absolutely unreal' and expressed his heartfelt gratitude to his team mates Dublin man Simon O'Donnell and Norwegian Inge Solheim who took turns at guiding him through the race.
"I couldn't have done it without them. There are great great people in the world. It's just a question of seeking them out," he added.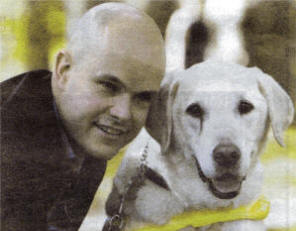 After completing half of the trek Mark said he began to think the team would complete the challenge.
However, as they started on the next stage he began to realise there were many more obstacles to overcome.
"It dawned on me we had several hundred kilometres still ahead of us and mentally, I found that really difficult - the thought that anything could happen in that time," he said. Mark faced his first major disaster just two days later.
"I twisted my ankle and when I got up the next morning and I wasn't able to bear my weight. I didn't know whether or not it would hold us back or we would have to take time out," he explained.
The pain eased and the team were able to press on but a few days from their final destination the trio had to take a detour for medical help when Simon suffered frost bite on his nose and cheeks.
If left untreated this could have become gangrenous: "We didn't want to take any chances at all so we skied side-ways for half a day to to get medical attention. Now we're here, we're safe and all the injuries will clear up," Mark explained.
The realisation they might just make it only dawned on him during the last hour and a half of the epic trek in which SouthPoleFlag came fifth.
"For the final phase of the race we didn't see any of the other teams. It was only when we finished that we heard that the team that had come fourth beat us by a couple of hours," he added.
He admitted his time out on the vast expanse had been "very emotional.
Each day had many highs and lows. I got quite emotional four or five times along the way," he said. "It was due to everything from missing people and thinking about people back home, the thought of what was ahead of me and then, other times because I was happy to be there."
After weeks of eating dried foods he admitted he was looking forward to enjoying chocolate and a hamburger.
"When I arrived out here I had a bit of a belly on me and now my stomach is totally flat. In fact, I might even have a six pack," he joked.
"One of the competitors lost two stones and three pounds but I haven't actually weighed myself yet."
Since losing his sight, the inspirational athlete has set himself a physical challenge each year.
He was the first blind person to complete the lowest and highest marathons in the world - The Dead Sea Ultra in Jordan followed by the Tenzing-Hillary Everest Marathon from Everest Base Camp in Nepal. So what will he do next? He said he already has 'a few things in mind' but stressed these did not involve year long polar expeditions.
Ulster Star
06/02/2009