The hills are alive with the sound of a marriage proposal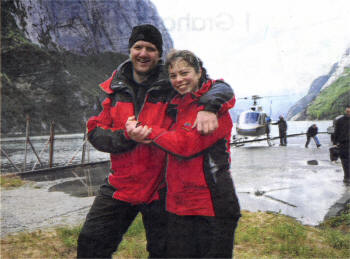 WHEN a couple get engaged they always hope they will have a good story to 'tell the grandkids'.
And it will be hard to beat the story that Lisburn couple Phil Maxwell and Jill Crothers will be sharing - the story of how they got engaged on top of a Norwegian mountain with a TV camera crew in tow.
Phil and Jill's high altitude engagement will be shown on BBC1 on tonight (Friday January 30) as part of the four-part series An Engagement With Franc. And anyone who misses the show can catch it again on the BBC iPlayer.
"The two of us had been talking about getting engaged for a while," explained Phil. One day I saw a pop-up on the computer looking for couples who wanted to take part in the show.
"I secretly sent off an email and didn't expect to hear anything back but they got in touch last January and said they were interested.
"Jill knew nothing about it," he continued. "We work together and live together so it was difficult to keep the secret for six months."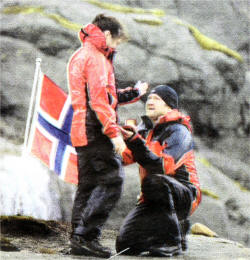 Phil was obviously better at keeping the secret than he thought as Jill was completely in the dark, even as she arrived in Norway.
"I had no suspicions at all," said Jill. "For six months I had absolutely no idea."
Phil and Jill both organise outward bound trips and this was the ruse that Phil used to get Jill up the Norwegian mountains.
"I was supposed to be speaking at a conference in Norway and going for a walk in the mountains for work," explained Jill. "When I arrived at the top of the mountain, Phil stepped out from behind a boulder, with a camera crew behind him. I managed to say 'yes' but for the first time in my life I was speechless."
Now preparations are well underway for their wedding on October 8, although the couple are not planning anything quite as dramatic as the engagement. "Plans are going well," continued Jill. "We are going to have a traditional wedding.
"Although I am looking forward to seeing what Phil will pull off for our first anniversary. He has a lot to live up to."
Ulster Star
30/01/2009