Lisburn company's help for sufferers of lung ailments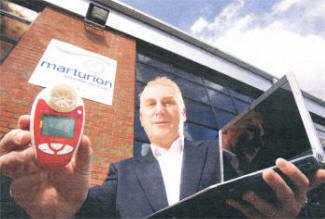 MD of Lisburn-based Marturion Dr Andy Barr demonstrates the medical screening device and software which was developed under InterTradelreland's REMINAC project. US3009-
A LISBURN company has developed a new medical device which will help sufferers of some of most dangerous and prevalent chronic lung ailments. Marturion, who are based at Enterprise Crescent off the Ballinderry Road, partnered with companies in Limerick and Ennis, Co Clare to develop the device under InterTradeIreland's REMINAC business network.
The Vitalograph COPD-6 is a small, affordable and easy-to-use device, which will not only make life easier for sufferers of Chronic Obstructive Pulmonary Disease, but save time and resources at hospitals and clinics by allowing sufferers to monitor their condition remotely, rather than having to travel to their GP surgery or hospital.
Marturion Ltd's Managing Director Dr Andy Barr said: "COPD is a major problem throughout the world and, along with cystic fibrosis and asthma, is among the most prevalent life-threatening lung diseases in Ireland — but both can be treated if detected early enough.
"REMINAC allowed us to develop a hand-held device which provides fast, simple and effective prespirometry
screening for those at risk, allowing for more effective control of the patient's health, with less need for medical intervention.
"The economic benefits of this device for the health service, in particular, are numerous.
"Sufferers of lung diseases are among those patients who have the most lengthy stays in hospital and this device could cut down their time in hospital, saving money as well as greatly reducing the risk of cross infection by sitting in GP. clinics and hospital waiting rooms."
MD of Lisburn-based Marturion Dr Andy Barr demonstrates the medical screening device and software which was developed under InterTradelreland's REMINAC project. US3009-
Ulster Star
24/07/2009