Maureen's dream comes true as she conquers Channel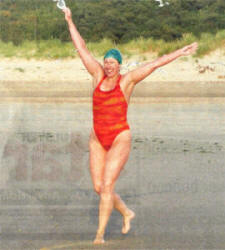 Maureen McCoy from Drumlough celebrates after she completed the gruelling English Channel swim from Dover to Weston Beach, France. It took Maureen just over 14hrs to carve her way through the 'Everest' of open water swimming challenges.
LOCAL swimmer Maureen McCoy is on the crest of a wave this week after fulfilling a lifelong dream by successfully swimming across the English Channel.
Maureen has imagined swimming the 23 miles from England to France since watching a film about the feat when she was just ten years old.
And her dream came true at the end of last week when she finished her 14 hour 15 minutes swim and set foot on French soil.
It is believed Maureen is the first female swimmer based in Northern Ireland to have completed the journey and she is thrilled with her achievement. "I was delighted," said Maureen, who flew back to her Drumlough home on Wednesday. "I haven't stopped smiling. I was really chuffed with myself, all I could think was 'I have just swam the English Channel'."
But fulfilling her dream wasn't an easy task and Maureen has been training hard for the last year to make sure she was up to the task. "In the last four or five years I started doing sea and lake swims," she explained. "I started talking to people who had been successful in swimming the channel and they said I could do it so I started working to get my distance up.
"I spent the last year training specifically for the Channel. Before that I had done a couple of two mile swims, then jumped to a 10 mile swim, then to a 17 mile swim and then I thought it was time to try the Channel. As the crow flies it is 23 miles across the Channel but we swim further than that. I haven't got the fin al distance yet, although the pilot plotted every 15 minutes with GPS so we should get a good graph.
"I didn't really have any problems. At eight hours I started to think 'I have had enough' but my team kept me going."
Maureen was delighted with her time of just over 14 hours and her family, including her husband who watched every stroke she took, are extremely proud of her achievement.
Now Maureen plans to have a well deserved break and savour her success. "I will take it easy for a while and enjoy the glory,' she added.
| | |
| --- | --- |
| | |
| Maureen on her way across the Odium. Pic by Presseye | Maureen McCoy with husband Brian. |
Ulster Star
24/07/2009