Maze development site to be extended
by JULIE-ANN SPENCE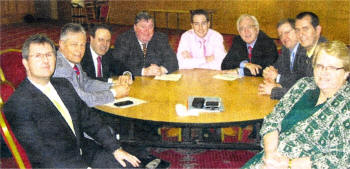 The DUP councillors
with Peter Robinson and Nigel Dodds
LAGAN Valley MP Jeffrey Donaldson has insisted that, despite the axe falling on plans to site a national stadium at the Maze, he is confident the rest of the development masterplan will go ahead, with an announcement on its future expected within weeks.
The Maze had previously been earmarked as the home for a 42,500-seater stadium, a conflict transformation centre, an indoor arena seating 5,000, hotel, offices, restaurants, cinema, housing and an industrial zone, as well as extensive infrastructure improvements including a rail link and upgraded roads.
And when Sports Minister Gregory Campbell scrapped the plans to develop a multi-sports stadium last week, the future of the development became uncertain.
However, this week Mr Donaldson and fellow DUP councillors met with the First Minister, Peter Robinson, and, speaking after the meeting, he said he was "confident the rest of the masterplan would come to fruition, with the Royal Ulster Agricultural Society at the centre of the development.
Mr Donaldson also said the development of the site, which could be increased from 360 acres to 1000 acres, would represent the largest investment in Northern Ireland.
"I am still determined the Maze development will proceed and we are looking at very exciting plans for what will be Northern
Ireland's largest investment location, with the potential to increase the site to around a thousand acres," said Mr Donaldson.
"This will provide thousands of jobs for the construction industry and for the local community and will be a major boost to our local economy."
The First Minister, Peter Robinson, also indicated his support for the Maze development this week, saying he would support the redevelopment of the site in a way which "acts as a catalyst for economic growth in the Lisburn area."
He continued: "The Maze site represents a massive opportunity for the Lisburn area.
The eventual development will be much larger than originally envisaged encompassing up to one thousand acres of prime development land making it attractive to a wide range of potential investors.
"It is hoped that the mixed use development will contain at least one key element of regional importance to Northern Ireland. I am determined to ensure that the site at the Maze is transformed in a way that will drive forward the economy and regeneration in Lisburn and the wider Lagan Valley region." Finance Minister Nigel Dodds added: " I will seek to identify a funding stream for the future development of the Maze site."
Ulster Star
06/02/2009