Melanie on her way home across the Atlantic in a Tall Ship
by SARAH TOLAND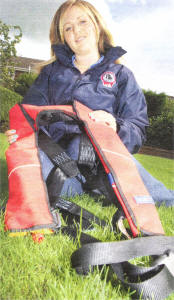 Melanie Warden who is on the Tall Ships from

Halifax

in Canada to Belfast. US3009-102A0 Picture By: Aidan O'Reilly
A LISBURN teenager has set off this week on the trip of a lifetime - sailing on a tall ship on a 2,350 mile voyage across the Atlantic back to Belfast.
Melanie Warden flew to Halifax, Nova Scotia last Friday to join the ship.
She was one of the lucky 25 young people from Northern Ireland selected after a Province wide competition to be part of the Tall Ships 2009 Transatlantic Challenge, which ends on August 13 when 40 tall ships sail into Belfast to mark the start of the four-day Belfast Maritime Festival, which looks likely to be the biggest event ever in the city, attracting 400,00 visitors.
The last time the tall ships came to Belfast in 1991, 250,000 visited the ships in Pollock Dock.
This time there'll be 10 of the big beauties, accompanied by 30 slightly less tall ships, crewed by 1,000 men and women from all over the globe. And among them will be Melanie, after a trip she'll remember for the rest of her life.
Melanie, who's just finished her A-Levels at Wallace High School, was bitten by the tall ships bug last year. "I'm a member of Wallace High School Girl Guides and last year Girl Guiding UK decided to enter the first ever female crew to sail in the 2008 Tall Ships race from Liverpool to Norway. I was chosen to go and enjoyed it so much I decided to search the Internet on how to become a tall ship volunteer for this year's competition."
The 18-year-old explained how she initially caught the sailing bug. "My dad took me sailing when I was younger in Strangford Lough so he taught me everything I know. I'm pretty sure the waves will be slightly different across the North Atlantic though!"
Speaking before flying to Canada Melanie said: "I'll be able to spend two days in Halifax, taking in the sights before boarding on Sunday afternoon. We leave early on Monday morning so there's not much time to get familiarised with the ship."
To many this would be a daunting expedition but Melanie enthused: "I really am looking forward to the experience, taking part in the race will mean a lot to me. I hope to learn new teamwork and communication skills, as well as learning a bit more about sailing such a magnificent ship."
However she admitted: "I am a wee bit nervous, it's the longest I've been away from home and I really hope I meet people I get on with since we'll be together for three and a half weeks!"
Melanie explained the trip will be physically draining as the 40 volunteers will be on shifts. "We will each have to work on a rota of four watches, which means we will be on watch for four hours and then off for four, day and night. It will be very tiring but I can't wait, it will definitely be a once in a life time opportunity."
"I know it's going to be hard work but I'm so excited to be a part of it. I'll probably need a holiday when I get home though."
There certainly won't be much free time for the volunteers as Melanie admits working the four watch rota means that she will try to "squeeze as much sleep in as possible."
Belfast will host the biggest event ever staged in Northern Ireland when the Tall Ships reach port. Grand finale celebrations will take place between 13-16 August. Visitors and volunteers will be welcomed by a range of continental markets, fun .fairs, concerts, parades and firework display shows in the evenings.
Ulster Star
24/07/2009