Mental health first aid course held in Lisburn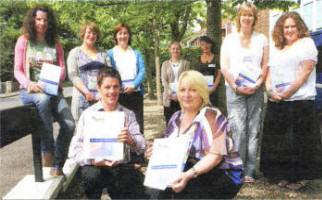 David Tumilty, Mental Health Promotion Specialist and Diane Wilson, NICAS, pictured with staff who recently completed the first Mental Health First Aid course in the South Eastern Trust.
THE first local Mental Health First Aid training has taken place in Lisburn. The training, which was initially developed in Australia and recently adapted for Northern Ireland, provides basic skills on how to recognise the symptoms of mental health problems such as depression, anxiety and psychosis.
The Lisburn course was carried out by the South Eastern HSC Trust's Health Development Department, in partnership with the Northern Ireland Community Addiction Service (NICAS), after getting funding from Investing for Health.
Trust Mental Health Promotion Specialist, David Tumilty said: "It shows participants how to provide initial help so that mental health crises may be avoided through early intervention. It is the very first step of intervention before a person receives professional help."
David's co trainer, Diane Wilson, from NICAS added: "Evaluations from the two day course were very positive and is reflected in a quote from one participant who said 'I really enjoyed the course. I feel it helps us to reduce the stigma of mental illness and enable people to seek help when they need it"'.
South Eastern Trust Director of
Adult Mental Health and Disability, Desi Bannon praised the design of the course saying:
"By training people within the community and the workplace, Mental Health First Aid training aims to tackle the prejudice and stigma traditionally associated with mental health problems,
and to improve the outcomes for those affected; their families, friends, colleagues and employers." Anyone interested in attending future Mental Health First Aid training should contact the Health Development Department on (028) 9250 1373.
Ulster Star
14/08/2009