Students on mercy trip to Romania
by MARY MAGEE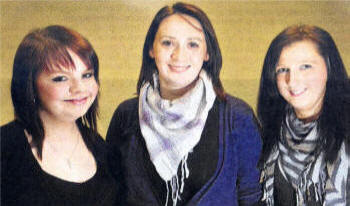 THREE university students will be swapping their student life to work with deprived children in Romania in the summer.
Jemma Magee (20), Pamela Dawson (26) and Claire Gawley (25) will be spending two weeks working alongside some 600 children with learning difficulties that attend Rosetti Special School at Iasi, North East Romania.
The three will also be working with the local community in Romania and helping with their summer schemes.
The trip is run by Express Aid International, which has been involved with Rosetti Special School since March 1999.
The 600 children who attend the school are aged between 7 to 18. 250 of them boarding because their parents simply cannot afford to feed or clothe them, 35 live in 'Casa Gulliver' an orphanage for children who suffer HIV/Aids and 70 have simply been orphaned or abandoned.
Jemma, who is currently studying a BEd honours in teaching, said she jumped at the chance to work with deprived children.
To help raise some of the £600 needed for the trip she plans to abseil down the Europa Hotel with her boyfriend Johnny on March 15.
"I love working with children and when this opportunity came up I jumped at the chance to go," she said. "It will be the chance of a lifetime and give us the opportunity to work with children from another country. We have been told that their living conditions are pretty basic."
Pamela, who is studying for a degree in social work, works with children each Friday through a Positive Futures project. She said that she wanted to do something this summer to work with children.
The three meet with other participants who are taking part in the project at St Kevins Hall in Belfast once a month. "Many of the schemes that I was looking at were building projects and I would not know where to start so when I heard about this scheme it was ideal," she said. "Most of the group have all been before so its their second time and it is all new to us. We all really like working with children. Some of the children we will be working with have Aids/HIV."
Claire, who is also studying for a degree in social work said they have been told they will be working with different groups, each day so that there is little emotional attachment. All three are holding a pub quiz at the Ballymac Hotel on January 30 at 8pm. There will be a 'Night at the Races event organised for later in the year and they also plan to take part in the fun run event.
Ulster Star
23/01/2009