The million pound meters
PARKING IN LISBURN ON COURSE TO RAISE A COOL £1M AYEAR FOR ROADS SERVICE
by JENNY MONROE
Parking is city now a goldmine'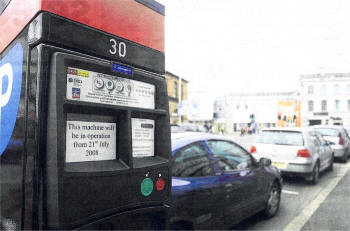 PARKING meters in Lisburn are on course to raise over a million pounds a year for the Roads Service.
Figures given to local MLA Jonathan Craig by Regional Development minister Conor Murphy show show pay and display machines notched up £710,000 in the 12 months until January. And in their first six months, the controversial on street meters rang up another £160,000.
That means a whipping £870,000 for the Roads Service in the last 12 months. Once the on street machines are in operation for a full year the income is set to top the million pound mark.
Mr Craig said car parking in the city had become a 'goldmine' for the Department of Regional Development.
He told Lisburn Council's monthly meeting it was an "extraordinary" amount of revenue and said he will be challenging Mr Murphy to detail how much of the money is being put back into the upkeep and upgrading of the road network in the Lisburn area.
He also proposed the Council write to the Minister and "demand to know what investment is being put in to Lisburn after these gains." This was agreed.
It is clear from these figures that the people of Lisburn are paying way over the odds for parking and I will be interested to see figures relating to other areas in Northern Ireland in comparison.
"The heart of Lisburn, and those that work, visit or shop there, should not be overcharged because it is an attractive and successful area," added Mr Craig.
"The people of Lisburn should see their money pumped back into their area rather than it simply being seen as a money making exercise for the Department for Regional Development."
Councillor Basil McCrea said he shared concerns of local traders that excessive distribution of on street parking meters around Lisburn is having a detrimental effect on their business.
En reply to a letter sent to the Minister by Mr McCrea, Mr Murphy said that Roads Service had commenced a review of the onstreet charged parking in the city.
'This review will take into account comments from Lisburn City Council, the PSNI, Lisburn City Management, Lisburn
Chamber of Commerce and all businesses and premises along the streets on which the charges are in operation. On completion of the review , Roads Service will decide whether to continue to apply the charges, or make changes to the current operation," said Mr Murphy.
Ulster Star
27/02/2009