Moira Brownies meet the Princess Royal
by STACEY HEANEY
Girls meet very special guest at W5 event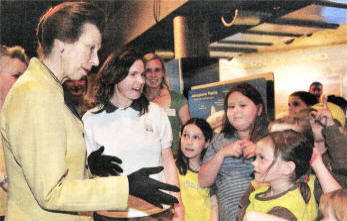 MEMBERS of 1st Moira Brownies were thrilled to meet Her Royal Highness The Princess Royal recently when she paid a visit to W5 in Belfast where she was guest of honour at an event to celebrate the 25th Anniversary of Women into Science and Engineering (WISE) Campaign.
The WISE Campaign was founded in 1984 by Baroness Platt of Writtle and collaborates with industry and education to encourage girls of school age to continue studying Maths and Science, and to continue into related careers such as Engineering and Construction.
The Princess was formally greeted on arrival at W5 by Commander Keith Cochrane RD DL RNR, Vice-Lord Lieutenant of the County Borough of Belfast, and went on to meet Miss Annette Williams, Chair of WISE, Mrs Terry Marsh Executive Director WISE, and Dr Sally Montgomery OBE, Chief Executive W5 Odyssey Complex.
In the Lecture Theatre over 120 invited guests, including around 70 Brownies from Packs across Northern Ireland including 1st Moira, welcomed The Princess Royal to the event.
Later, Her Royal Highness, accompanied by Dr Montgomery and Mrs Marsh, went on to visit the recently opened Wind, Wings and Waves exhibition and had the opportunity to meet 1st Moira Brownies and their leaders.
stacey.heaney@ulsterstar.co.uk
Ulster Star
26/06/2009