Motoring dreams will help raise money for S.A.M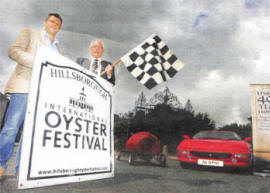 Chairman of the Hillsborough Oyster Festival David Dunlop and Lisburn Mayor Alan Ewart launching the Supercar Dream Rides Exhibition which will take place at the Festival. US2809-116A0 Picture By: Aidan O'Reilly
MOTORING dreams are set to come true at this year's Hillsborough Oyster Festival when the historic County Down town will be filled with motoring exotica for the third running of the 'Supercar dream rides'.
On Sunday September 6 Ferraris, Aston Martins, Porsches, and many more of the world's most desirable motor cars will be on display, and not only will people be able to see and be photographed with the car of their dreams, but will also be able to ride in a Supercar by donating a minimum of £5 to S.A.M (Struggle Against Muscular Dystrophy), the Festival's nominated charity. This donation buys a photograph taken with a Supercar as well as a ride with the owner on a pre-arranged route around Hillsborough.
Support
Hollybrook Sports Cars Support have agreed to help out with the Supercar Dream Rides event and they will be displaying their wide range of Porsches.
Almost £7,000 was raised for the Oyster Festival's charity at the last running of the Supercars and Tyndall Productions are repeating that successful format and adding in a few innovations for 2009.
In addition to the impressive line up some very special Supercars will be singled out and the rides in these 'Super Duper Cars,' will be auctioned on site in aid of SAM, with the next run going to the highest bidder.
A 'Back to the Future' De Lorean will be positioned under the clock tower in Hillsborough Square where people can have their picture taken with the mad professor. A Pearly King and Queen will be ushering people aboard a genuine Routemaster Double Decker London Bus for a fun trip through the village. This will be just one of the Family Fun Rides in unusual vehicles which will be available throughout the afternoon.
Each Supercar owner donates their time and the use of their car, and the fuel, and it is hoped that in excess of £6,000 will be raised during the afternoon.
Parents or Guardians of children (minimum age 8 years), who wish to have a run in a Supercar must sign an indemnity form. If the child is not taller than 4ft. 5in, they must provide and fit their own booster seat.
Tyndall Productions would like to thank the PSNI, Hollybrook Sports Cars, Carsport Magazine, and all the private owners who are supplying the cars for this charitable purpose.
For further information contact Alan Tyndall on 92 689444 or e-mail alan@rpm-motorsport.com.
Ulster Star
10/07/2009