Mark and Josh prepare to move mountains in Kenya
by STACEY HEANEY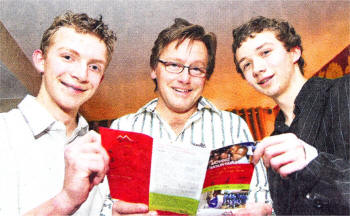 TWO local teenagers have been busy raising funds recently as they prepare to spend time this summer in Kenya renovating a school and an orphanage.
Mark McCurdy and Josh Baird, who live in Hillsborough, will leave Northern Ireland on August 6 to begin their work with the Moving Mountains Street Child Programme. Mark and Josh, who are both past pupils of Hillsborough Primary School (now Downshire), are aiming to go beyond the £1,800 sponsorship they each needed for the trip by raising an incredible £3,000 each for the charity.
They have already gone some way to reaching their target by raising a fantastic £2,500 at a buffet supper and disco night which they organised in Rockmount Golf Club. Moving Mountains is a Northern Ireland-based charity which works mostly in Kenya and Nepal, aiming to improve the lives of underprivileged children through the provision of education, home support, counselling, free medical care and vocational training. The charity was started in 2001 by Gavin Bate after many years working in the slums of Nairobi and building lasting relationships with local communities, schools, churches and clinics.
Josh spoke about his excitement ahead of the trip, "I don't think I can get over how excited I am about the challenges that we will face. Coming from Hillsborough and living in the Lisburn area, you don t see that kind of world and I want to try to make an impact on people's lives." Speaking about how he became involved in the project, Josh said, "I heard about Moving Mountains from Mark so I looked on the web-site to learn more and I got really interested. I thought it would be a worthwhile cause.
"Gavin is really dedicated to helping people, it's another world there. I will be meeting and working with a lot of new people. "We will also be playing with the young kids aged from 8-12 years old and trying to build trust in the community."
Mark said he did not know what to expect once he arrived in Kenya.
"I'm expecting to find it quite difficult," he said, "but Fm looking forward to the adventure aspect quite a lot."
Speaking about how he became involved, Mark said, "My dad went out in 2005 and he was talking to the man he went with who said he was doing another, so I decided to go."
The pair will join a team of UK volunteers, and will be working with street children and renovating a school called Tigithi and a nearby orphanage until August 26.
They have organised a number of fundraising events in order to support their work. Josh will also be running the Belfast Marathon in order to help their project, as well as having planned an abseil down the Europa Hotel on May 9 and they will be doing a sponsored trek up Mount Kenya, the second highest mountain in Africa, which they hope will also earn them their Gold Duke of Edinburgh's Award.
If you are interested in supporting this work, please visit Mark and Josh's Moving Mountains website, https://www.justgiving.com/markandjoshmovingmountains
where you can donate safely online.
stacey.heaney@ulsterstar.co.uk
Ulster Star
20/03/2009