Moyra to deliver `Buttons and Blessings' in Trafalgar Square
by LAURA ABERNETHY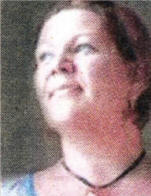 HILLSBOURGH resident, Moyra Richardson, will have the ultimate chance for her voice to be heard next week when she will take part in Anthony Gormley's 'living work of art' project in London.
The project, entitled 'One and Other,' allows 2400 people, from all walks of life, to take a stand on the fourth plinth at London's Trafalgar Square, for one hour each, 24 hours a day, for 100 days.
The plinth, which remained empty from 1841 until 1999 is now the location for contemporary art works, commissioned specially from leading artists.
The latest work by Gormley, creator of the famous Angel of the North,' was opened on July 6 and aims to "represent the whole of humanity." Moyra will be 841st person to take to the podium from 9-10pm on Monday (August 10).
The English teacher at Wallace High School is using her hour of fame to raise awareness of Irish homeless charity, Depaul Ireland.
With four projects in Dublin and Belfast, the charity has helped over 950 homeless people in the last year providing accommodation, outreach and training services.
Moyra hopes that her exhibition, entitled 'Buttons and Blessings,' will raise awareness of the charity in a very unique way. She will throw jewellery, handmade with recycled buttons, and paper aeroplanes, decorated with blessings, into the crowds of tourists and friends to inspire 'faith and hope' and encourage those watching to donate.
The exhibition will be broadcast live on the website https://www.oneandotherco.uk. "I am encouraging friends and supporters to join me at Trafalgar Square, to bed down in their sleeping bags in honour of rough sleepers all over the UK a n d Ireland, asking for sponsorship and donations in aid of this humane and unique organisation," said Moyra. "If you can not make it to London in support, please consider sponsoring me and making a donation to Depaul Ireland through my web page."
To donate and support Moyra, you can visit https://www.justgiving.com/Moyra-Richardson/ or for more information on the 'One and Other' exhibition visit https://www.oneandother.co.uk.
Ulster Star
07/08/2009