You'll be seeing a lot of Suzanne this summer
LISBURN SCHOOLGIRL CHOSEN TO BE PART OF NATIONAL TRUST POSTER CAMPAIGN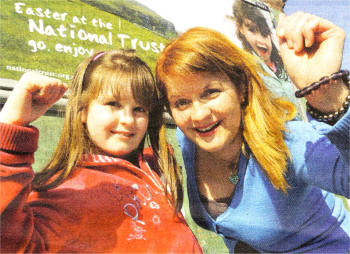 A LISBURN school girl will soon be a familiar face across Northern Ireland after being chosen to be part of the National Trust's spring campaign.
A picture of Suzanne Hunter was posted. in the charity's photographic micro site www.nationaltrust.org.uk/pictureyourself and her image was highly commended in October. And now she is to appear in a leaflet campaign which will go to over 80,000 homes in Northern Ireland. The photos, all taken and uploaded to the site have formed part of a new campaign for the Trust to encourage visitors to their sites to share their clays out experiences. The site enables visitors to upload their favourite pictures and create a snapshot of what makes the National Trust in Northern Ireland so special for so many people.
Maurica Lavery, Communications Manager with the Trust, said,
"We still want our visitors and members to share their special moments on www.nationaltrust.org.uk/pictureyourself. In return every month they'll have the chance to win a fantastic prize including their photo appearing in another National Trust advertising campaign, being on display at a high profile exhibition in Northern Ireland as well as an exclusive family day out at a National Trust venue of their choice in Northern Ireland.
"At the end of the competition, the overall winner will receive a digital camera and have a chance to hone their photographic skills at a National Trust property with Chris Hill, one of Northern Ireland's most experienced and respected photographers."
To find out what's going on and to upload your photographs visit www.nationaltrust.org.uk/pictureyourself
Ulster Star
24/04/2009