New Action Cancer Website will highlight lifesaving services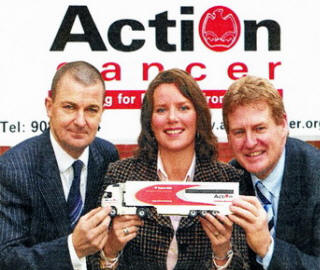 David Pollock Commercial Director Musgrave SuperValu Centre, Nuala McKeever Patron of Action Cancer and Robin McRoberts Action
Cancer Chief Executive.
AT the end of August leading local charity Action Cancer will relaunch it's website
www.actioncancer.org
with improved layout, updated service information for men and women, publications and all the relevant information on news and events.
For over 35 years Action Cancer have led the way in Northern Ireland changing the lives of local people for the better. Living with cancer can be a lonely and scary experience.
Someone coping with a cancer diagnosis, or family and friends who have lost someone to the illness, know it means the world to talk to someone who can help them deal with this upheaval in their lives. These days though many people increasingly turn first to the world wide web to access information.
Geraldine Kerr, Head of Professional services said: "We hope that people worried about cancer or who have just been diagnosed with the disease will find out about all the services they may need through our new website.
"We are the only charity in Northern Ireland offering breast screening to women aged 40-49 and 65+, falling outside the NHS screening range.
"A huge increase in our screening capacity (especially with the capacity of the mobile BIG BUS) has seen 1,100 women each month offered screening by Action Cancer, detecting an average of 7 cases of breast cancer every month.
"When people are confronted with the sudden changes in their lives a diagnosis can bring Action Cancer is here to help. This could begin with our listening ear service, a signposting service offered on our mobile cancer unit (dubbed the Big Bus) or in Action Cancer house. This is often the first step for a lot of people finding it hard to cope with what cancer can do to their lives.
"An in house counselling service, run by a staff of highly trained and compassionate professionals, provides over one hundred hours of counselling every month to anyone affected by cancer, including friends and family, and more recently children and young people dealing with a cancer diagnosis or loss in their family.
'A complementary therapy team offer services including aromatherapy, head massage, reflexology and more.
"These therapies take place in a relaxed, calm and positive environment and provide a huge benefit to people living with cancer and those close to them. It can also be crucial when dealing with bereavement or suffering the strain of chemotherapy.
"Every service we offer is funded by the generosity of the people in Northern Ireland.
"We know that things are getting harder for everyone recently and we are all tightening our belts but Action Cancer is here, working in the very heart of our communities.
"Our health promotion team travel across Northern Ireland teaching schools, workplaces and community groups how changes in your lifestyle can reduce the risk of cancer.
"These can be anything from eating your five portions of fruit and vegetables everyday to exercising more."
Dougie King, Head of Fundraising added: "For a generation Action Cancer has been working to save lives and improve the quality of life for anyone affected by cancer, with your continued help the charity will be here for future generations. As long as this disease affects people in Northern Ireland we will be here to help. "
The Big Bus mobile unit will be visiting LaganView Enterprise Centre, Lisburn on September 18.
Anyone interested in appointments can call the Clinical Admin team on 028 9080 3344 The Big Bus, which is sponsored by retail group SuperValu and its independent retailers, was launched in 2006 by Gloria Hunniford, whose daughter Caron Keating died from breast cancer in 2004.
Since the service was launched over 11,000 people have used the unique screening, support and health promotion facilities onboard the 18 metre-long unit, including thousands of women who have been screened for breast cancer.
As part of SuperValu's award-winning commitment to Action Cancer's mobile cancer services, which they have sponsored since 2001, the independent retail group is funding over £600,000 towards the £1.5 million needed for the Big Bus in the first three years, including the annual running costs of £120,000.
Ulster Star
21/08/2009