New artworks revealed on Seymour Hill walls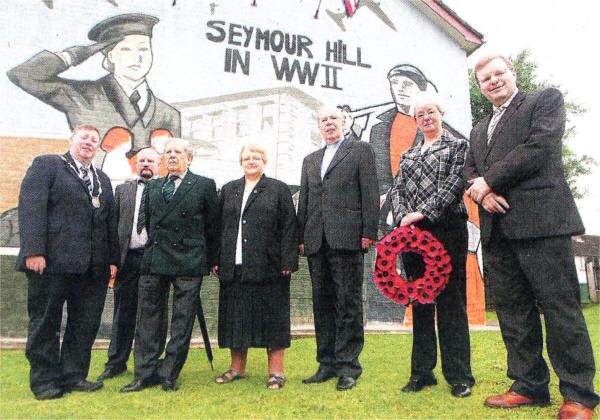 Lisburn Deputy Mayor Paul Porter, Mark Black of Conway Community Asociation, Colonel Robin Charley of the Royal Ulster Rifles, Margaret Tollerton, Rev Fred Greenfield, Pat Kerr daughter of Billy Harbinson of the Royal Ulster Rifles who is depicted in the Mural and MLA Jonathan Craig at a Mural in Seymour Hill. US2709-138A0 Picture By: Aidan O'Reilly
TWO new artworks have been unveiled in Seymour Hill as part of the Arts Council of Northern Irelands Reimaging Communities Programme.
The wall paintings, created by local artists Tim McCarthy and Robin Cordiner, depict the area's rich cultural history and have replaced paramilitary murals.
Through a series of discussions and workshops local residents, including school children, community groups and church representatives, identified a number of themes that were of historical importance to the area. The Second World War was one of these and formed the basis for Tim McCarthy's artwork. Each of the images in the mural represents a different aspect of life in the community during that time, such as the contribution which local farms made to the war effort and the presence of American servicemen.
Mark Black from the Seymour Hill and Conway Community Network commented: The reimaging project is the result of long and painstaking work through the community to reach a consensus on how to tackle the issue of paramilitary murals.
"Many focus groups and community audits were carried out before some major themes were identified. As a group it was important that all the key stakeholders were given equal say and, with the moves within paramilitaries towards a progressive and shared future, this allowed for intense and strong debate on the subject.
"The community has now taken ownership of the process and believe that community art should show a positive and cohesive side of our culture, for us as a community in Seymour Hill, visitors to the area, and most of all for our children and the brighter future we wish for them."
Roisin McDonough, Chief Executive of the Arts Council of Northern Ireland and Chair of the Shared 'Communities Consortium, said: "The residents of Seymour Hill have worked together with local artists to rejuvenate their area and make it a more welcoming environment for all to enjoy.
"The Arts Council's Re-imaging Communities Programme has taken a sustained approach to regeneration, providing residents and community groups with the means to reclaim their neighbourhoods and restore civic pride. Here in Seymour Hill we can clearly see the benefits of that arts-led approach and the completed works are a result of the community's hard work and dedication."
Ulster Star
03/07/2009