New era at Fort Hill Primary School
MINISTER APPROVES TRANSFER TO INTEGRATED STATUS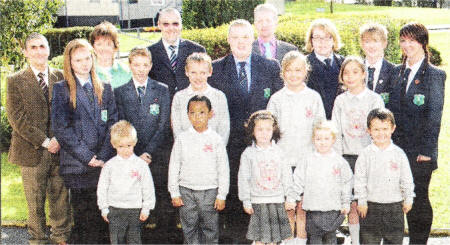 Staff and pupils from Fort Hill Integrated College and Fort Hill PS. Included are, from the College, Mrs M Getty, principal; Mr Adrian Blythe, chairman; and pupils Rachael McCready, Simon Morrison, Roberta Todd, Emma Beggs, Nigel Prentice and Christopher Sanaghan; with Primary principal Mr John Walsh, chairman Mr D Dunlop and pupils Ellie Snape, Becky McCreanor, Christopher Walker, Kirsty Strong, Ben Kenny, Kgalalelo Kambule, Chloe Gramam and Daniel Jordan. US4008-532cd
A NEW era will begin at Fort Hill Primary School in September after Education Minister Caitriona Ruane approved a plan for the Lisburn school to transform to integrated status.
Explaining the reasons for her decision, Ms Ruane said: "The Department of Education has a statutory duty to encourage and facilitate the development of integrated education which has seen a growth in demand.
"Fort Hill Primary School is co-located with Fort Hill Integrated College and the campus should offer integrated education to children aged 4 to 19. The school already enrols children from a variety of backgrounds and it will be important that the school works hard to address the challenge of achieving a successful transformation. I wish everyone involved in the school success for the future."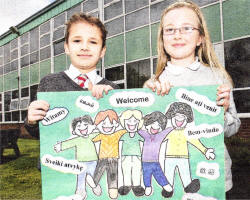 The school's Principal Mr John Walsh said everyone at the school was "very pleased" by the Minister's decision, which would see the school attain official integrated status from September 1.
"As a school sharing a 20 acre site with Fort Hill Integrated College, it has been a serious consideration for us over many years that providing Integrated Education for children from three to 19 years old was the way of the future.
"Our vision is for a school which is totally representative of the whole neighbourhood and catering for all primary age pupils in an area which has seen great change during the past decade. We believe that by becoming formally integrated our pupils will lose nothing but will have much to gain.
"As such we would trust that everyone involved with Fort Hill Primary can now move forward together and create a new and exciting chapter in the school's history."
David Dunlop, Chair of the school's Board of Governors, said: "It is very important that we give our children the best opportunities to grow and learn together, helping to remove fears and misunderstanding. We see this as a stepping stone in building on what's best in our school and embracing the opportunity to be able to give our children a greater understanding of the world around us."
The move was also warmly welcomed by the Northern Ireland Council for Integrated Education (NICIE). Michael Wardlow, Chief Executive Officer of NICIE added: "This Ministerial approval to transform to integrated status formally recognises the hard work that the school has undertaken. We warmly welcome Fort Hill into the integrated community and look forward to working together with their governors, staff and parents for the benefit of the young people in the area."
julieann.spence@ulsterstar.co.uk
Ulster Star
27/03/2009