Olivia helps to build new homes for Ethiopian families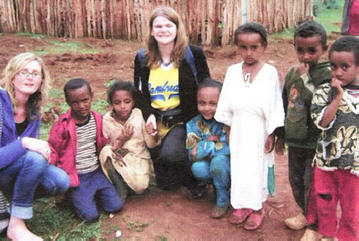 LOCAL teacher Olivia McKnight has recently returned from a two and a half week visit to Ethiopia where she once again helped to build homes for those in need with Habitat for Humanity.
Olivia, who teaches at Ballycarrickmaddy Primary, was on her second visit to the country and worked in the city of Debre Markos, building six homes for local families.
Olivia joined 12 others from across Northern Ireland to take part in the project and was delighted to be part of the team which handed the keys to new homes to excited locals.
She also spent time learning more about the language and culture.
Olivia explained: "I couldn't understand everything, but I was able to understand a few things; I think the fact I was learning the language was special for people there."
Whilst her group had built six homes during their time in the region, they presented 21 new homes to excited local people.
"One man just took his key and ran," she explained. "He was so excited and we were excited for him.
"Each of the homes is built the same," Olivia added. "There are two rooms and a toilet outside. They have electricity and no running water, but there is a well. The people help to build their own homes and they have to work 600 hours of sweat equity, some were mothers working with their babies on their backs. They then pay a mortgage of about £750 at £5 a month for 10 years. £5 a month doesn't sound much to us, but it is a lot there.
"The point of Habitat for Humanity is that they give people a hand up, not a hand out. The families will have vegetables in their garden like potatoes, cabbage, beetroot, carrots which they can take to the market and sell or feed their own family."
| | |
| --- | --- |
| | |
| Olivia with some of the children in the city of Debre Markos, Ethiopia. | Olivia is hard at work on the new homes in Debre Markos, Ethiopia. |
Olivia continued: "The Managing Director for Habitat for Humanity out there, Kebede, told us that is so important that people come over to help, as it gives the people there a bit more enthusiasm and energy to keep going.
"Building houses is very hard work; it's laborious. The stones have to chipped by hand, there are no diggers or cement mixers, everything is done by hand."
One low point of the trip for the local group was hearing that a similar team in Kenya had been involved in a bus accident and that one member of the group was seriously injured.
Olivia recalled: "We had just started working when we heard and we were all quite shocked. Mary Morgan was seriously injured and I had worked with Mary last year in Ethiopia so it was shocking, although work had to go on. Thankfully she has recently returned home and she is now in the RVH."
Olivia also paid tribute to members of her Church, the Banbridge Road Presbyterian Church, Dromore, who sent over small vests and hats for the people of Debre Markos.
"They asked me what they could do or what they could send over; they have been very supportive" Olivia said.
"I really enjoyed it. I would like to go again, although at the moment I am glad to be back to nice hot showers and electricity.
stacey.heaney@ulsterstar.co.uk
Ulster Star
04/09/2009