MINISTER CONFIRMS NEW HOSPITAL
by JULIE ANN SPENCE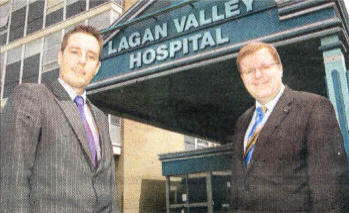 HEALTH Minister Michael McGimpsey has confirmed plans are going ahead to develop a new local hospital and health centre for Lisburn, at a cost of over £60 million.
Work is now underway at the South Eastern Trust to produce a "strategic outline plan" to progress the development, and it is expected it will be completed by the end of this year.
It will mean the re-location of the existing Health Centre to a new facility in the grounds of the Lagan Valley.
The confirmation was given to Lagan Valley MLA Jonathan Craig, who sought assurances from the Minister that existing services would be maintained at the Lisburn hospital.
"I can assure you of my commitment to developing Lagan Valley Hospital as a local hospital and a specialist centre for elective surgery," said Mr McGimpsey. "Last year I announced significant capital investment in Lagan Valley Hospital, including £3.2 million for two new operating theatres. In the longer term there will be a major capital project on the site to provide a new local hospital/elective centre and a co-located new health and care centre for Lisburn, at an estimated cost of £62 million."
Welcoming the Minister's commitment, Mr Craig said: This is great news for the people of Lisburn. I, along with many people including staff, have been worried over the past few years that we were seeing a stripping out of services in the Lagan Valley hospital which are vital for the local community.
"This news is a vital boost to our local hospital, which sends a strong signal that we are going to retain all other existing services in our hospital. On top of this, it looks like we are going to see a major investment in the Health Centre provision in Lisburn as well."
The Chairman of Lisburn City Council's Corporate Services Committee, Councillor Paul Givan, said he was pleased the Minister
had given the assurances. "This follows or from a commitment given at the end of last year that money would be made available to develop die hospital site," said Mr Givan.
"This secures the long term future of the Lagan Valley Hospital and demonstrates how effective the 'Save Our Services' campaign has been."
julieann.spence@ulsterstar.co.uk
Ulster Star
22/05/2009