COUNCILLORS TOLD OF `UNBEARABLE' CONDITIONS AROUND LISBURN STORE
Residents warned Tesco plan likely to be approved
by STACEY HEANEY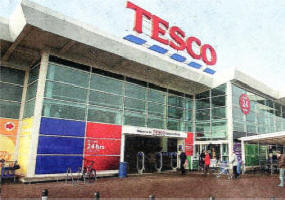 The Tesco store at Bentrim Road, Lisburn
MEMBERS of the Benson Street Residents' Group have been warned by Lisburn Council's planning committee an application to extend the Tesco store at Bentrim Road is likely to be approved.
Members of the group spoke of their "total opposition" to any further development at the store when they addressed the committee on Monday night. Planners had recommended approval of the scheme, which includes closing the petrol station to allow more parking, last month but agreed to a deferment so the residents could talk to the committee.
Members of the group described the "unbearable" conditions residents face, with constant noise, traffic and anti-social behaviour.
However, councillors said the extension is set to be approved and urged residents to consider what conditions they would want to see attached to the development.
Councillor Basil McCrea said: "This application is going through. That's the way it looks to me, it is here for approval so this is a chance to put our opinions across."
Mr McCrea offered the group the opportunity to meet with councillors to work out what, if any, planning conditions would be acceptable.
Addressing the committee Victor Watson of the Benson Street Residents' Group outlined their concerns over traffic, flooding, privacy, noise and anti-social behaviour.
Mr Watson commented: "Over a period of four years over 700 objections to a Tesco expansion have been received by the Planning Service and the main reasons in all of these objections are still valid. There were no submissions in favour. That is why residents are surprised and frustrated by any suggestion of approval for a bigger Tesco."
Councillors expressed their "total sympathy" for residents, however they advised them it would be wise to consider seeking conditions to be applied should the proposal get the go-ahead. Councillor Ronnie Crawford said: "This is a David and Goliath battle — a relatively small number of residents versus a retail giant.
"We as a council have no control over the final decision, and so I would urge residents to spell out what conditions they feel should be put on the development. This could also be an opportunity to look at the problems they might create and nip them in the bud."
Mr Crawford suggested a different traffic calming system in Benson Street.
Alderman Jim Dillon, citing his vice chairmanship of the council's Economic Development Committee and membership of Lisburn City Centre Management, said: "This town is dying on its feet and we've got to make sure, where possible, that we do something about it."
Alderman Jeffrey Donaldson commended the group on the campaign they have run and added: "In the planning system there is no right of third party appeal, the only fall back we have are the conditions to be applied. Have the Association given any thought to what conditions, without prejudice to your position that you are totally opposed, you would want applied should Tesco be given approval?"
Alderman Ivan Davis also asked whether the group would be willing to compromise on the issue, to which Mr Watson responded: "The very first compromise we would expect is for Tesco to clean up its act at present. There is no doubt about it that the petrol station must go, a lot of the traffic comes from there."
Councillor Trevor Lunn told the group: "You have already moved mountains and I hope you can move a few more."
Tesco reported an 89% reduction in the number of objections since they submitted their amended plans on March, with just 74 objections in comparison to 664 objections to the previous proposal.
However, members of the Residents' Group denied that opposition was not as fierce to this proposal saying that: "The anger and frustration among local people is increasing all the time." Outlining the compromises made in the new proposal, Tesco pointed out the Deck car park, atrium and side extension had been removed, the nett extension was reduced from 80,000sqft to 72,000sqft and landscape buffers had been retained and reinstated to Hillside Gardens at an increase from 6 metres to 8 metres.
Following the meeting Councillor Crawford said a Tesco representative had agreed to consider funding measures to alleviate some of the existing and possibly new problems which may be created by their new extension.
stacey.heaney@ulsterstar.co.uk
Ulster Star
07/08/2009