Nic tackles the triathlon in memory of her lost daughter
NORTHERN IRELAND WOMAN COMES HOME WITH A MESSAGE OF HOPE AFTER TRAUMATIC TIMES
by SARAH TOLAND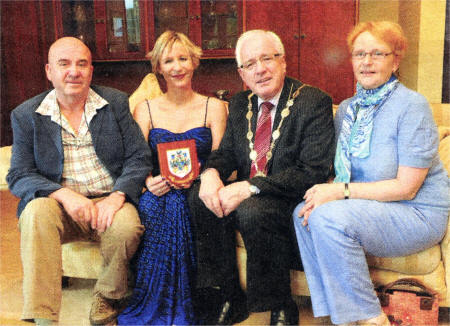 The Mayor of Lisburn, Councillor Allan Ewart with Nic Russell and her parents John and Patricia Russell.
A NORTHERN Ireland woman home on a visit home from New Zealand has taken part in the City of Lisburn Triathlon to raise awareness of a very special fund in memory of her two year old daughter.
In 2005 Nic Russell's little girl Kenzie was diagnosed with paraspinal bone cancer which left her paralysed. In the same terrifying year Nic herself was diagnosed with breast cancer.
By the end of the year Nic had buried her daughter and still faced her own continuing battle with cancer. Not only did she have to console her son over the loss of his sister but a broken marriage left the family without an income and facing a very uncertain future.
On a six week return visit to Northern Ireland, Nic seized the opportunity to raise awareness for her charity, Kenzie's Gift, by taking part in the Lisburn Triathlon.
"Many people don't have a voice when faced with cancer. At only two and a half, Kenzie certainly didn't. She couldn't really put into words how she was feeling apart from being in pain and often she became overwhelmed with fear which led to nightmares during the night. I haven't been home in nine years so I wanted to come back and thank people for their kindness during that time and to raise awareness of the disease."
Nic grew up in Cranfield and attended Kilkeel Primary and High School. At 19, she went to London to embark on a career as a Hospital Play Specialist and then left on what was supposed to be an 18 month break in New Zealand.
"We went to New Zealand for an extended holiday but never came back!" she recalls "I taught scuba diving, snorkelling and generally fell in love with the place. I ended up staying there after a whirlwind romance led to marriage."
However, trauma followed Nic but out of her heartbreak came a glimmer of hope for other sufferers.
"After Kenzie died, my story highlighted the Herceptin campaign in New Zealand influencing the government to fund the drug. After an emotional roller coaster, I am home now to show people that there can be a positive life after cancer. I promote positivity, to encourage everyone to go after whatever you put your mind to as you never know what's round the corner. I didn't expect an adventure holiday to lead to the most painful years of my life." In the first year after Kenzie's death, while Nic was still battling breast cancer, she took part in the Ocean Swim Challenge and the Aukland Marathon in aid of the charity she set up following her daughter's death, Kenzie's Gift. With the heart of a lion and clearly a similar mindset, fearless Nic also completed two sky dives and rafted all the big rivers in New Zealand to raise money and awareness for her charity.
As Nic planned her journey home, she decided to seize every opportunity to raise as much awareness as possible.
"I scoured the Internet for events while I was home and I found the Lisburn Triathlon. I contacted the organisers and told them my story and the reason I wanted to compete and they very generously gave me complimentary entry. It's a chance to see everybody, to meet and greet the people who supported me throughout Kenzie's illness and the four years since she sadly passed.
"My own treatment only stopped a year ago so I wanted to talk to people and send the message out that there is help available. I have set myself personal challenges facing the fear and the pain, yet appreciating the fact that I am here and I can do it."
Lisburn's Mayor Councillor Allan Ewart held a reception for Nic, saying he felt 'privileged' to welcome her to the city and honouring her ambition and determination to help others.
Nic led a meeting in Kilmorey Hotel in Kilkeel on Wednesday night to encourage others and give them an insight into her work and what her life has been like.
"I host motivational talks throughout New Zealand and I thought I would hold one while I'm home to thank people and to let them see what their support has helped me to do."
As her son, Conor, has never been home before, Nic took the opportunity to show him the sights of Northern Ireland. "We took him to Portstewart, the Giant's Causeway and showed him all the various places I went to as a child. We also went down to Dublin which he loved. Being quite active means he loves adventure, like his mum, so we took the bikes up the Mournes. It's been great to be home and revisit everywhere I loved to go when I was growing up. I couldn't believe how much some places have changed though.
"There are always mixed emotions, trepidation and excitement. With the help of my son and my family and friends I got through it.
"I just wanted to raise awareness and spread Kenzie's message as she has given me the inspiration to carry on."
Ulster Star
31/07/2009