Nicole hits the right note with Star Search judges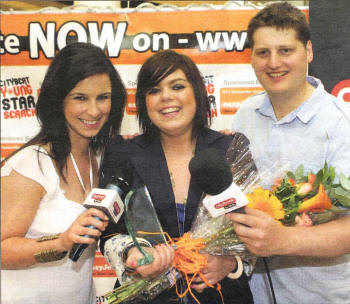 Citybeat's Emma Fitzpatrick and Stuart Robinson congratulate Lagmore girl Nicole Campbell on her win
SIXTEEN-year-old Nicole Campbell from Mount Eagles Avenue in Lagmore hit the right note last weekend when she won the senior title of The Citybeat Young Star Search competition with an incredible version of Ave Maria after polling thousands of public votes.
Lisburn hopeful Liam McMullan finished sixth.
The contest finals were staged at CastleCourt as thousands of spectators, fans, supporters and performers filled the mall to watch their favourites compete for the much coveted title while thousands more heard the final live on Citybeat.
The winners will now win a 'money can't buy prize' getting to record their own CD single with Internationally renowned DJ and Producer Micky Modelle which will then receive radio airplay, a photoshoot with Bill Smyth Photography, a back to school shopping spree in CastleCourt and a chance to travel with some fabulous prizes from easyJet.
Nicole, who is a pupil at St Genevieve's, was delighted. She said: "I'm really shocked at winning the title.
"I really didn't expect to win and felt there were other people in my category who deserved it much more."
She added: "I think I'd like to go to Paris and I really cannot wait to get a chance to record the single with Micky Modelle."
"I've had a fantastic time during the competition and have also made some really good friends."
Nicole will be taking part in the Finalists Showcase Tour on Saturday August 15 from 10am - 2pm at Clarendon Dock, Belfast and also on Saturday August 15 from 5pm-7pm at Lough Shore Park, Newtownabbey, as part of the Tall Ships weekend.
julieann.spence@ulsterstar.co.uk
Ulster Star
14/08/2009