Workplace clinic helps Dean stub out smoking habit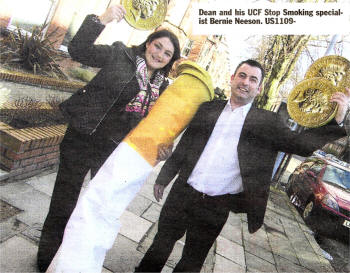 MOIRA man Dean Corry is entitled to feel rather pleased with himself this week.
For after smoking for 15 years Dean gave up the dreaded weed six weeks ago and now he is urging other local smokers to follow his example and ditch the fags.
This week marks No Smoking Day and Dean is encouraging everyone to kick the habit. He had attempted to quit a number of times - but always without success. However, with support from UCF's weekly workplace stop smoking clinics, he is getting the support he needs to stub out the habit.
"I started smoking when I was 22," explained Dean. "I have tried to quit before but finding the time to get to my GP's surgery was always a problem. And I used to make up excuses like if I'm paying for a prescription I may as well buy cigarettes'.
"In the past I've used patches, gum, even the new tablets but nothing worked and I always started smoking again."
However, when the Ulster Cancer Foundation came to Queens University, Dean's workplace, to offer free stop smoking sessions, he ran out of excuses and got motivated to quit. That was six weeks ago and he has never looked back.
"I think because you get to see your specialist every week it really helps. I just take it one week at a time," continued Dean.
"This is a free service so if you are motivated to quit, get in touch with the Ulster Cancer Foundation. I think this is a great way to stop smoking," he added.
If you would like to stop smoking with the support of the Ulster Cancer Foundation, you can get in touch with the charity on 0800 783 3339.
julieann.spence@ulsterstar.co.uk
Ulster Star
13/03/2009