Lynne and Noel overcome setbacks
to finally reach the top of the world
by JULIE ANN SPENCE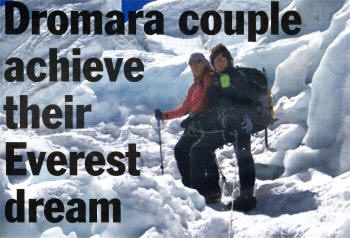 DROMARA couple Noel and Lynne Hanna were literally on top of the world last week when the became the first married couple from Northern Ireland to reach the summit of Everest.
Noel and Lynne reached the top at 12.26pm last Thursday, fulfilling a dream they had come close to realising several times only to have their hopes dashed.
Speaking after reaching the summit, the elated couple said they are looking forward to getting home for a "good night's sleep."
They are using their Everest climb to raise £150,000 for the Ulster Cancer Foundation's Personal Everest Project and ore than £75,000 has already been raised.
Back down at Camp 2 on Mount Everest, Noel, a 42-year-old fitness instructor and his 47-year-old wife Lynne, told how they have been deprived of a proper sleep owing to dropping temperatures and altitude sickness.
The couple first came close to climbing to the top of the world in 2005, but were forced to abandon the attempt when doctors told Noel that haemorrhages on both eyes meant he was risking his sight.
He returned for another attempt a year later and managed to reach the top.
Then the couple were scheduled to go together last year, but the expedition was cancelled because of the unstable political situation in Tibet.
Speaking after finally achieving their dream, Noel said: "We only really got two or three hours sleep a night. It was hard to get sleep with sleeping in a tent, the temperature to some extent and the altitude we were at.
"To be honest we are not that keen on having any big party as soon as we get home. I suppose what we really want after all this, more than all, is a good tasty meal, a few drinks and a good night's sleep," added Noel.
julieann.spence@ulsterstar.co.uk
Ulster Star
29/05/2009