Parkview switches to solar power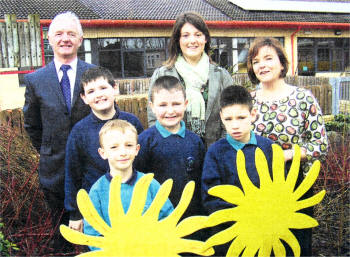 Nicola Kelly and pupils Aaron Claxton, Thomas Ward, Junior Rooney and Christopher Crossey from Parkview Special School show off the school's new solar panels to Emma Gribben from NIE Energy and Billy Mills from the South Eastern Education and Library Board.
A LISBURN school is going green for 2009 by installing a renewable energy system.
As part of the Switched on Schools programme, Parkview Special School has fitted photovoltaic solar panels on its roof to create energy from sunlight and help reduce the school's running costs. The Switched on Schools programme is funded by Northern Ireland Electricity, the South Eastern Education and Library Board and DARD's Programme for Building Sustainable Prosperity. The scheme not only installs renewable technology in rural schools but it also provides learning tools for pupils which allow them to monitor how much energy is being produced on a day to day basis.
Energy
Nicola Kelly, Vice Principal of Parkview Special School, says fitting the solar panels was an opportunity not only to save on energy costs but also to educate the pupils about their ongoing responsibilities to the environment. She commented: "At Parkview safeguarding the future of our pupils is paramount, and replacing energy generated fossil fuels with solar power makes very good sense."
Emma Gribben from NIE Energy who visited the school last week said: "This 5kWp system will reduce the carbon dioxide emitted into the local environment by around 2.4 tonnes. In recent years schools have become enthusiastic adopters of renewable energy, demonstrating a range of sustainable energy solutions such as solar, wind, biomass and geothermal."
To find out more about the Switched on Schools programme visit www.switchedonschools.co.uk
Ulster Star
06/02/2009