Passage through India to help street children
Lisburn couple prepare for journey of Hope
by STACEY HEANEY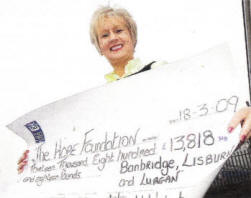 LOCAL couple Bernie and Robert Walsh are preparing to trek across India next month in order to help provide desperately needed health care for Calcutta's street children.
Bernie, who is the local WeightWatchers leader, became involved in the trek through the Hope Foundation, which has previously worked with WeightWatchers Ireland to raise funds to open a medical centre for the children in the Indian city. The Hope Children's WeightWatchers Hospital was opened last year to provide a proper health care facility for Calcutta's 'nowhere children', after the children were being turned away from the hospitals in the city
WeightWatchers have also pledged to fund the upkeep of the hospital for its first five years, which will require them to raise £20,000 per year, and Bernie and her husband Robert have one a long way towards this year's total by raising an amazing £13,500 through taking part in the trek. The pair will leave Lisburn for two weeks on April 4 and while they are in India will spend time with some of Calcutta's street children. The trek itself will see the couple walking for up to seven hours each day and Bernie explained that whilst she is looking forward to the experience, she is also apprehensive.
The trek takes place in Goa and we will be walking for six to seven hours a day before midday because of the heat," Bernie said. "We will be walking for seven days then we will be going to Calcutta to visit the projects undertaken by the Hope Foundation. I will also get to visit the Centre which WeightWatchers bought and I will actually be the only person from WeightWatchers who has seen the Centre so far." Bernie is also aware that it is not going to be easy to see how some of the children live. "I'm very emotional, so I will probably cry' she said.
"There is great poverty in India but there is great riches as well, it is just not distributed to everyone who needs it. We talk about how badly off we are here with the recession, but we don't know the half of it, this trip will make me appreciate what I have here."
Bernie and Robert raised the funds for the trek through a variety of ways, including holding a fundraising night in the Blues Club in Lisburn, climbing the Mournes in January and members of her WeightWatchers class collecting change in a bucket, as well as taking sponsor forms and collecting sponsorship for her. The couple were required to raise £4,400 each, however they surpassed all expectations by raising a fantastic £13,500.
"There were so many people who helped us," said Bernie. "We'd just like to thank everybody who supported us; members and local businesses."
The reality of the trip is setting in and Bernie is both excited and nervous ahead of the trek.
"I'm a bit apprehensive," she explained. "I'm worried about the heat for the walking part of it, I'm worried about the food, but I'm really beginning to get excited as well.
"My concern all along was raising the money and now I've got that and I've had my injections and I've got my Malaria tablets so I'm all ready to go.
"I think it will be the experience of a lifetime; one that I'm sure I will never forget."
stacey.heaney@ulsterstar.co.uk
Ulster Star
03/04/2009