Pat takes to the skies for MS Society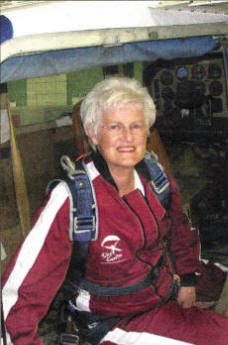 Pat Crossley gets ready for a challenge of a lifetime.
FORMER Lisburn lady Pat Crossley is facing the challenge of a lifetime as she gears up to skydive with Garvagh's Wild Geese.
Pat, 67, is involved with a number of charities in Northern Ireland, but on August 1 she will be donning a parachute and jumping from 10,000 feet to raise money for The MS Society.
When Pat and her family were living in Lisburn and Hillsborough she was involved in many charities, including N.I Council of Orthopaedic Development. She was Honorary Secretary of Lisburn Mental Health Club for a long period, and was ordained as an Elder in First Lisburn Presbyterian Church in 1975, where her late husband Norman also served in that role.
In 1981 she was the organiser of a Festival of Flowers, which took place despite a car bomb which caused major damage to the church, and later that year Songs of Praise was televised from First Lisburn and part of the Flower Festival was shown in the recording, as well as Pat being interviewed in her much loved Hillsborough garden. Pat's daughter Adrienne spent the early part of her education at Wallace Prep School - these were happy family times for Norman, Adrienne, and Pat.
Pat began fundraising for the MS Society when she moved to Ballymoney in the 1980s and she is hoping local people will support her latest highflying fundraising effort.
"This is a once in a lifetime challenge," explained Pat. "Despite people telling me I'm mad, I'm even more determined to do it. And I'm absolutely certain that my husband Norman would have been my number one supporter in this venture, as he was when he was alive. I'm delighted that my daughter Adrienne and her husband Lee will be travelling from London to be with me on the day." My friends have been very generous and I hope others will sponsor me if they can," said Pat.
"Even a few pounds will make a huge difference and mean The MS Society can continue their invaluable work. At the outset I was daunted by attempting to raise so much, but every pound makes a difference."
You can sponsor Pat by visiting his online fundraising page on www.justgiving.com/patriciacrossley. You can pay by credit or debit card, and the money will go directly to The MS Society, Ballymoney Branch. Where supporters are UK taxpayers, the charity will automatically receive 28% extra in Gift Aid, which makes Justgiving the most efficient way of sponsoring Pat.
julieann.spence@ulsterstar.co.uk
Ulster Star
17/07/2009