Family's quarter million fundraising for cancer charity
Mother and family honoured for work over 40 years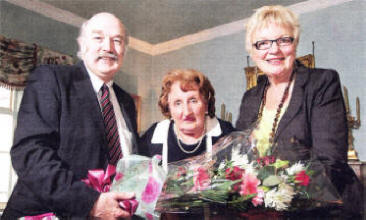 A BIG hearted Lisburn fundraiser, who with her family has spent 40 years raising £250,000 for the Ulster Cancer Foundation, has been recognised for her efforts.
Pearl Creighton received a commemorative plaque and a bunch of flowers from the charity in recognition of the amazing contribution.
And her family, who own Creighton's Garage in Finaghy, have carried on the fundraising tradition by supporting the charity with a variety of fundraising initiatives over the past few years.
Incredibly, Pearl has also found time to help other charities. She has been a volunteer and member of committees, a founding member of a locally based charities and sits on committees for a number of charities in Finaghy, Dunmurry and south Belfast.
Son Niall said the family are all very proud of their mother's efforts. He said she was someone who is always willing to help others.
"My mother loves helping others, especially those who are in most need," said Niall. "Through our business we have carried her fundraising work on. We are delighted and very proud of what she has achieved."
Professor Roy Spence, Chairman of UCF, said the Creighton family have made an 'outstanding contribution' to the charity.
"Their dedication and commitment to fundraising for the charity has made an important contribution to our work helping us to continue to provide much needed care services and information for all those affected by cancer in Northern Ireland," he said.
"The Creightons have supported us for many years and we are thrilled to celebrate this fundraising milestone with the family. UCF is a local charity committed to tackling cancer by supporting cancer research, providing services for cancer patients and their families and by educating people on how they can reduce their risk of the disease. All funds raised for UCF are spent locally to help and support people with cancer in Northern Ireland." If you would like further information on how you can help UCF ring: 9066 3281 or log onto their website www.ulstercancer.org. The UCF's freephone cancer information and support helpline on 0800 783 3339.
Ulster Star
24/04/2009