Pete Doherty reminisces about life in Lisburn as a young child
by JULIE ANN SPENCE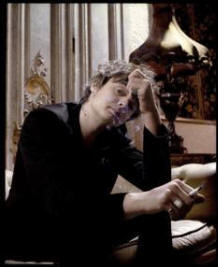 WHEN well known singer and musician Pete Doherty arrived in Dublin recently for an appearance on RTE's Late Late Show and an interview at Trinity College many people must have thought there wasn't much he could say that would surprise them. After all, renowned as a talented musician, his problems with drugs and his status as a former boyfriend of model Kate Moss, are all well documented. But he used the visit to talk about the time he and his family lived in the Lisburn when his father, an army major, was stationed at Thiepval Barracks during the 1980s.
During his intimate and informal talk at Trinity College's Philosophical Society Pete spoke about fatherhood, his love of literature and his time spent in Lisburn as a child.
He admitted when he lived in the city, between the ages of 6 and 8, he pretended his soldier father was a postman. "At that age, you're not really so involved," said Pete. "You get up, have Rice Krispies, check under the car for a bomb and go to school."
In a documentary screened in 2006, Pete also mentioned a memory of visiting Lisburn library with his mother when he was young.
Pete was born in March 1979 in Northumberland. However, he spent his formative years at various army garrisons throughout the world, including Thiepval Barracks in Lisburn, where he would have been in the mid-1980s.
Do you remember Pete Doherty when he lived in Lisburn? Did you go to school with him? If so, contact the Ulster Star with your memories at 12A Bow Street, Lisburn, BT28 1BN or email info to julieann.spence@ulsterstar.co.uk.
Ulster Star
20/02/2009