Optician 'lived life to the full' despite illness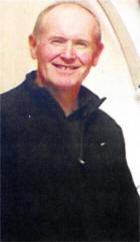 FRIENDS of Lisburn's best known businessman, optician Peter Brogan, who passed away on New Years Day say it was 'a measure of his zest for life' that despite receiving a diagnosis of cancer in March he 'continued to live his life to the full'.
During his courageous battle against the disease Peter, who served on the Council at Malone Golf Club continued to play the sport he 'treasured' at many well known courses including the Old Head of Kinsale, Wentworth, Carlton House, Royal Portrush and Royal County Down.
He also travelled to and from Italy and was able to attend the Monza Grand Prix. During a visit to Silverstone he enjoyed an opportunity to test drive a Porsche Turbo 911.
Other activities at which he excelled included squash and skiing, but his interests extended far beyond the sporting field.
A keen traveller with a passion for anything and everything Italian, he was a fine linguist and loved both food and music.
Peter also devoted a great deal of time to his community. He was a Justice of the Peace and a Past President of the city's Rotary Club. He and his fellow Rotarians honed their culinary skills at a weekly cookery class at Lisburn College (now the South Eastern Regional College) which he thoroughly enjoyed.
He was greatly respected among members of his profession, serving as Northern Ireland's representative on the General Optical Council in London for many years as well as President of the Northern Ireland Optical Society and Chairman of the profession's Negotiating Committee. Like his father Paddy, who was also an Ophthalmic Optician (now known as an optometrist), Peter was highly regarded within Lisburn's business community.
A past pupil of the Christian Brothers School, Peter left Northern Ireland in 1969 to attend City University in London where he successfully completed his degree and professional exams.
He went on to gain a specialist contact lens qualification and gained wonderful clinical experience in David Clulow's practices in Earlscourt and later in Bristol.
During this period he married his wife Ethna and the couple had their first child Roisin.
In 1979 he felt the time was right to move back to Northern Ireland where Roisin's brother Andrew was born in 1981.
Peter took over his father's busy practice in Lisburn and continued to build it into a highly successful business in which he was eventually joined by Roisin. He will be sadly missed by his many clients
But his passing which took place at the home he loved - Green Hollow on Magheralave Road - will be most keenly felt by his grieving family. His death has also caused great sadness among his business partners and colleagues who along with Roisin intend to carry on the PJ Brogan practice with the same drive for excellence and personal service displayed by both her father and grandfather.
Peter's Requiem Mass was celebrated at a packed St. Patrick's Church on Chapel Hill last Saturday after which he was laid to rest in Holy Trinity Cemetery.
As well as his devoted wife Ethna, Roisin and Andrew, he is survived by his son-in-law Chris and much loved little granddaughter Isla.
He is also mourned by his mother Mary, sisters Mary, Roisin and Ursula and his brother Kieran. Peter was pre-deceased by another brother Damian.
The family have asked for donations in lieu of flowers to be sent to Action Cancer, c/o Ronnie Thompson Funeral Director, 20 Ballinderry Road, Lisburn BT28 1UF