Excitement in the air as pupils settle into new school at Pond Park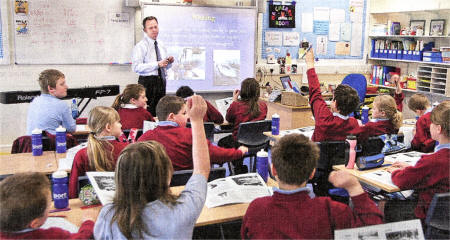 THERE was a buzz of excitement at Pond Park Primary this week as staff and pupils started set-ding into the brand new, state-of-the-art school. The pupils got their first glimpse of the school last Thursday but this has been their first full week in their new classrooms.
And by all accounts it is a resounding success with children, staff and parents all thrilled with the new facilities.
There are many outstanding features including the new playground equipment, which is the first of its kind in Northern Ireland.
Each of the classrooms benefits from an interactive white board, making the classroom a truly 21st century learning experience.
The school also prides itself on its eco-friendly status, with heating supplied by a biomass boiler burning wood pellets and a rainwater collection
Tonnes of concrete and miles of cabling
The building sits on 800+ stone piles
The foundations and floors consist of 4,500 tonnes of concrete
There is over 21 tonnes of steel reinforcement in the floors and foundations
There is over one mile of drainage pipework
The external and internal walls consist of 61,000 bricks and 204,000 concrete blocks. If these were laid end to end they would stretch for 63 miles
There was over 25 miles of timber used
The roof is covered by 37,000 roof tiles
The underfloor heating systems comprises over 15 miles of pipework, in which there cannot be a single leak
The electrical systems comprises over 40 miles of cabling
Over 1,000 litres of paint have been applied to internal walls
There are over 100 internal doors
Enough vinyl and carpet was laid to cover half of the pitch at the new Wembley Stadium facility.
And nothing was wasted when the old school building was torn down, as all of the fixtures and fittings are now being used by schools in Zambia.
Teachers who worked for many years in the old building are delighted with the new facilities. Mrs Carolyn Johnston, who began teaching at Pond Park in 1983, said: When I arrived here the old school was a new school but it became too small for our needs.
"I didn't think I would be sentimental when I saw them knocking down the old building but there was a wave of nostalgia and I
remembered everyone who had gone through the school.
"What we have here is totally amazing. My favourite part is the interactive white board.' Mrs Brenda Martin, who began teaching at Pond Park just one year after the school first opened, is delighted to have moved from her old mobile into the school building.
"It's still a learning curve," she said. "The kids are loving it. I think they are a bit in awe and a bit flabbergasted. When they first saw it their eyes were going everywhere and they just said 'wow'."
| | |
| --- | --- |
| | |
| Pond Park Primary School principal Mr Victor Spindler hard at work in his office, with the school mascot on his desk. US1709-529CD | Children enjoying the play park at the new Pond Park Primary School. US1709-527cCD |
| | |
| Children enjoying the play park at the new Pond Park Primary School. US1709-S27cCD | Trying out the play park at the new Pond Park Primary School. US1709-526CD |
julieann.spence@ulsterstar.co.uk
Ulster Star
01/05/2009