Jobs lost as fashion shop closes in Mall
by JENNY MONROE
Principles is latest to be hit by downturn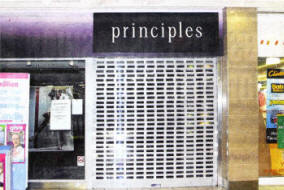 THERE was another jobs blow this week for the city when the local Principles store was one of 66 branches of the high street fashion retailer's shops to close.
The store in Bow Street Mall shut on Monday night after no buyer was found for the chain. Debenhams will acquire most of the stock. Lee Manning of the administrator Deloitte said: "Unfortunately there will be significant redundancies over the coming weeks."
Mr Manning, who is joint administrator, said: "Given current market conditions, we have been unable to find a suitable buyer to take the business on as a going concern.
"Debenhams will be acquiring most of the Principles' shop stock, including that in the 121 concessions within its stores.
"We have given Debenhams a temporary non-exclusive licence to continue operating the Principles brand.
"Regrettably we will be closing 66 high street Principles stores, but will be continuing to trade the remaining 19. For the time being the remaining 172 non-Debenhams concessions will remain trading."
Principles trades from more than 400 outlets - 94 standalone stores and the rest concessions - and has more than 2,300 staff. Its parent company, Mosaic Fashions, went into administration on Monday, with several of its brands immediately sold to a new company controlled by the Icelandic bank Kaupthing, to which Mosaic owed £400m. The brand was created in 1984 to provide clothing aimed at "career women at affordable prices", focusing on fashion for women in their 30s.
Ulster Star
13/03/2009