Portrait of Professor Pantridge unveiled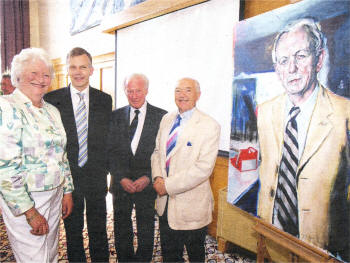 PORTRAIT in memory of one of Hillsborough's most famous sons 'rofessor Frank Pantridge, who developed the portable defibrillator, was unveiled at Queen's University last week. 'ormer prisoner of war and Military ;ross winner Professor Pantridge, who lied in 2004, is credited with revolution-sing cardiology around the world by introducing mobile coronary care.
be portrait was unveiled by rugby leg-nd and Queen's graduate Dr Jack Kyle ü ho was a friend and colleague of 'rofessor Pantridge.
cardiologists from around the world and members of the Frank Pantridge Portrait Fund, who secured almost 300 donations Dr the portrait from across the world joined some of Professor Pantridge's famy for the event in the Canada Room at )ueen's.
The three quarter length oil on canvas portrait has been painted by Belfast-based artist Martin Wedge, a winner in the first Davy Irish Portrait awards last year.
Dr Jack Kyle said he had first met Professor Pantridge, who held a Personal Chair in Cardiology at Queen's, as a young medical student and had come to know him well.
He said: "We stayed in touch throughout the years and I was proud to call him a friend. I am delighted to be unveiling the portrait of such a great man with an outstanding reputation in the international field of Cardiology which opened up so many avenues in diagnosis and treatment."
The unveiling of the portrait took place during a three day symposium at Queen's entitled 'Frank Pantridge's Legacy'.
Ulster Star
19/06/2009