A stellar line-up for Proms in the Park at Hillsborough Castle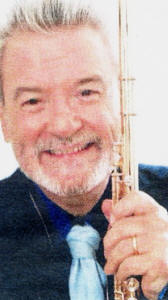 WORLD-famous Belfast-born flautist Sir James Galway will be joined by his wife Lady Jeanne, herself an accomplished flautist, and other star names in classical and operatic music at this year's BBC Proms in the Park event in the grounds of Hillsborough Castle next Saturday, September 12.
It is part of the world-famous Last Night of the Proms celebrations happening throughout the UK that day and it will be the first time the hugely popular outdoor musical extravaganza will be taking place in the grounds of Hillsborough Castle. This year's event promises to be even better than ever with a line-up which includes Newtownards-born soprano Rebekah Coffey; acclaimed tenor Peter Corry and the award-winning 1st Old Boys Silver Band from Belfast.
The Mayor of Lisburn, Councillor Allan Ewart, said: We are delighted with the range of artists at the event, in Lisburn's 400th year. I am delighted that Sir James and Lady Jeanne Galway will be on stage, and we are very fortunate that Sir James, who has played in world-famous orchestras, who has composed, conducted and played for millions of people during his career and who is an Ambassador for the music industry will be in the City of Lisburn."
BBC Northern Ireland's Noel Thompson will present the concert, joining the Ulster Orchestra under the baton of acclaimed conductor, Wayne Marshall.
Picnic hampers, big screens and lighting displays are all part of a three-hour classical party enjoyed by promenaders from all over Northern Ireland.
Complimentary tickets for the Hillsborough event have all been allocated.
For those with tickets for the event a free park and ride system will be in operation from the following locations: Lagan Valley Leisureplex from 4.30pm; Marks and Spencer Sprucefield and B&Q Sprucefield from 5.30pm.
BBC Proms bus stops will be clearly signposted and staff will be available to answer queries at each of the locations.
Traffic arriving at Hillsborough will be redirected by the PSNI. Alternatively audiences can listen to, or view, BBC Proms in the Park as it will be broadcast live on BBC Radio Ulster from 7.30pm and satellite and cable viewers can press the red button to watch all five concerts live, in full from the Royal Albert Hall, Hyde Park, Belfast, Glasgow and Swansea.
Ulster Star
04/09/2009